Norway is a country made for exploring nature, and also a country with a lot of history. There is a lot to do during a vacation in Norway, and many sights to see. Norwegian families go hiking, swimming, skiing, visit amusement parks, festivals, and cultural sites.
The Norwegian Summer climate
You can experience all kinds of weather in a day, and you should prepare for anything. When Norwegians enjoy their country in summer, they pack wool, raincoats, and swimwear.
July and August are usually the two summer months with the warmest weather. This is also the time most Norwegians enjoy their summer holiday – "fellesferien."
The brightest days are in June, when the sun is up almost all night. Especially in the far north of Norway where the Midnight Sun makes the night as bright as the day. Norway is in one time zone, but there are slight differences at night, with longer days as you go further north.
Hytta – The Cabin
Many Norwegians have their own cabin. They will spend a lot of their weekends and holidays there, in the mountains or by the sea. Often a family will share the cabin, and they will also rent it out when they are not using it themselves.
It is a great way to spend your holiday in Norway, finding the right cabin for your lifestyle. Whether it is for hiking or skiing in the mountains, or swimming and beach life by the seashore.
Norwegians also enjoy camping, and many have permanent spots at camping sites. There they build sheds joined to their caravans, turning them into small cabins. You will find scenic camping sites all over the country from the south to the far north.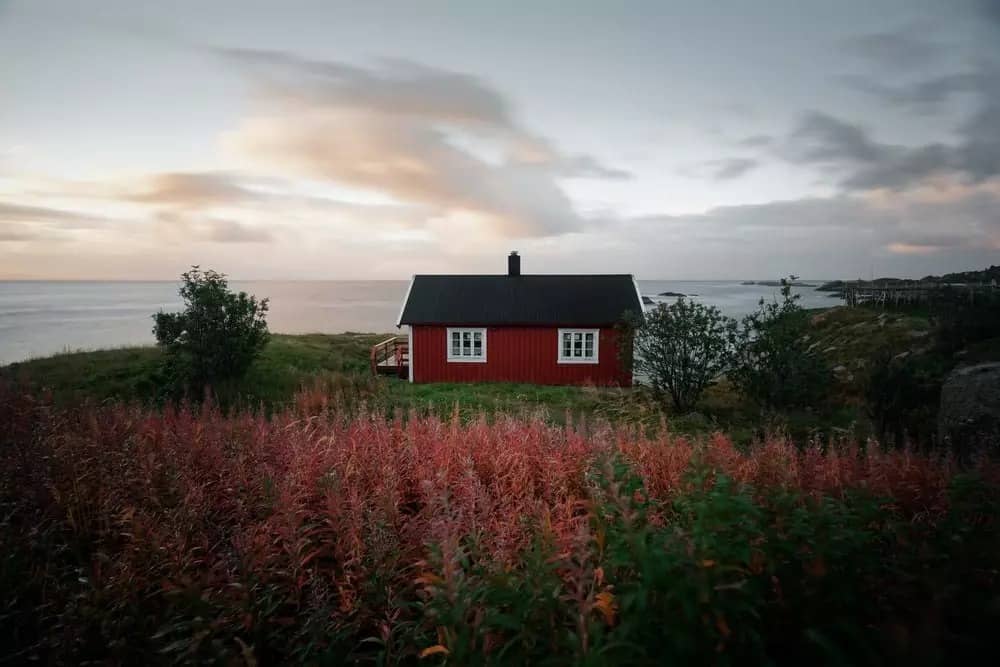 So – where do Norwegians go in Summer?
Norwegians are often shy, but most of them speak English and are hospitable and helpful. They are happy to help with directions and offer recommendations for local sights. And so we would like to share some of our favorite places to visit during Summer. We'll tell you a little bit about the sights and our most beloved cities, so you can enjoy them together with us.
Skudeneshavn
Skudeneshavn lies on the southernmost tip of the island of Karmøy. It is one of Norway's best-preserved small towns. Gamle Skudeneshavn is actually one of the most well-preserved towns in Europe. This old town consists of a total of 225 wooden houses and boathouses.
Skudefestivalen in Skudeneshavn
This charming and unique town is famous for its yearly boat festival, Skudefestivalen. that runs for four days during the summer months. It has all kinds of boats, from old wooden boats, vintage boats, modern boats, and sailboats to tall ships. This festival is in fact the largest gathering of coastal culture in Western Norway.
Craftsmen will display a variety of traditional handcrafts within sea and shipping. Historic items like engines, ships in bottles, and building of boats. You will also find markets with all kinds of food and crafts, as well as art exhibitions and much more. Well worth a visit if you enjoy life at sea.
Haugesund
Not far from Skudeneshavn, you find another exciting city – Haugesund. It is the main cultural center for its region, and home to several festivals. Like the Norwegian International Film Festival, and Sildajazz, an international jazz festival.
Sildajazz takes place every August, usually presenting 70 bands and 200 concerts. At the festival you can enjoy both local and international musicians.
A well-known landmark at the harbor of Haugesund is the statue of Marilyn Monroe! Did you know that her father, Edward Mortenson was from Haugesund?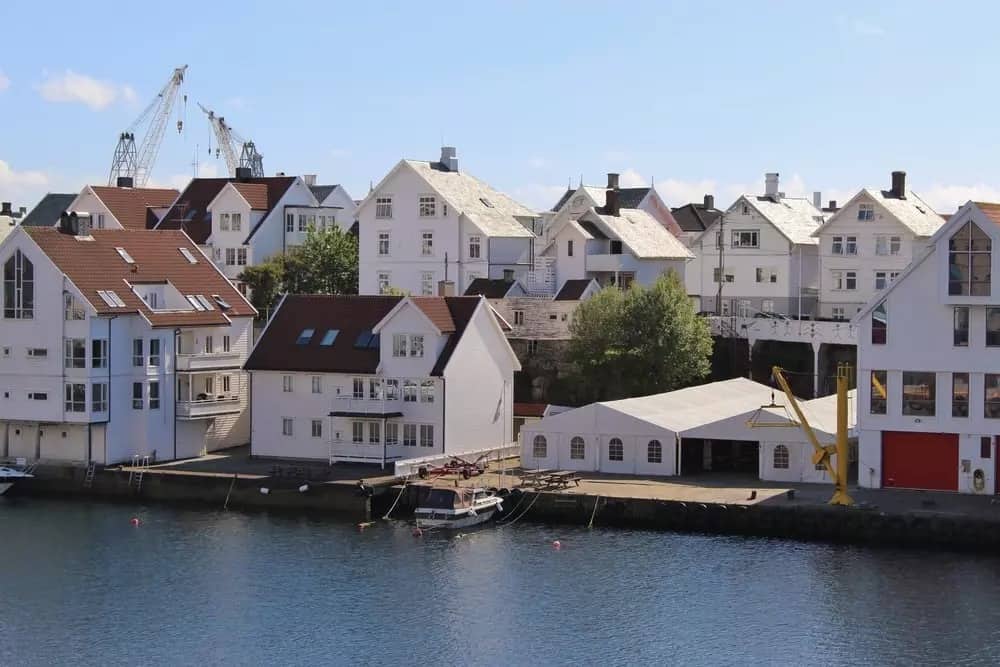 Bergen – the city between the seven mountains
A very popular destination in the western part of Norway, is the city of Bergen. Situated in Vestland county, by the sea, and between seven mountains, this is a city with lots of sights to visit.
Bryggen
Bergens most famous attraction is Bryggen, a block of colorful wooden houses on the old wharf. It was once a center of the Hanseatic League's trading empire. Bryggen is now listed as a UNESCO World Cultural Heritage site. You can visit museums and shops there, or stroll along the harbor eating ice cream.
Fløibanen
A second "must-see" in Bergen is The Fløibanen Funicular, which goes up to the Fløyen Mountain. Panoramic views of the entire Bergen city, a fun playground for the kids, and great hiking trails. Will you meet a troll in the woods there?
Gamle Bergen
A short trip outside the city center, you will find "Gamle Bergen", the old town of Bergen. Here live actors portray the people living there in different centuries. You can visit the baker or check out the old school. A great place for a picnic and many great photo opportunities.
The Aquarium of Bergen
Don't miss the Aquarium of Bergen! In the city center at Nordnes, right by the amazing Nordnes Park. It is a remarkable and very popular activity for the children, but also fun for adults.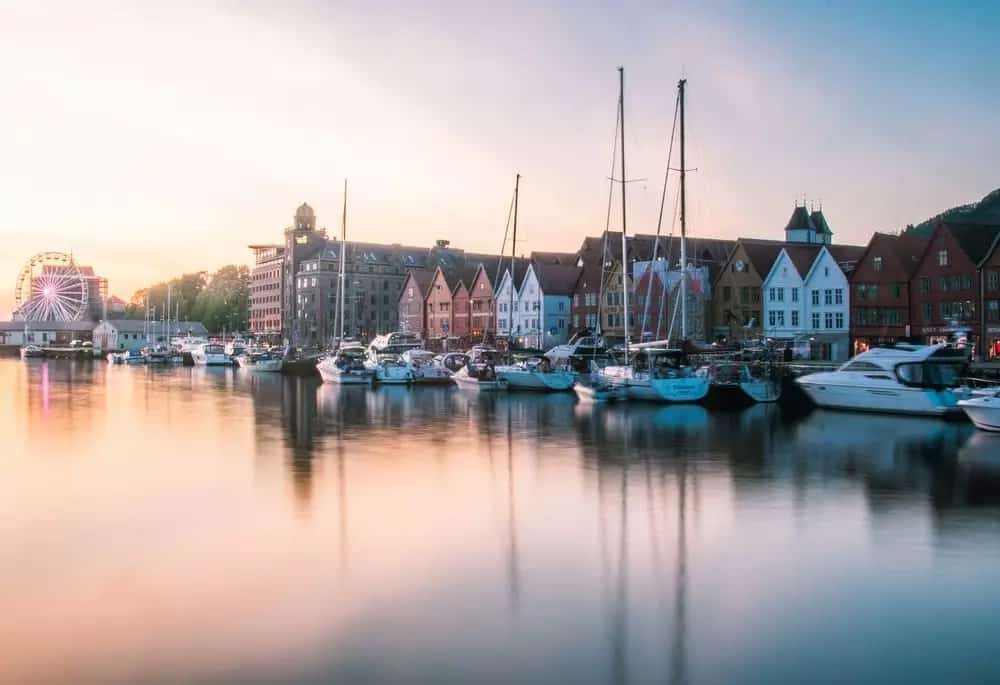 Stavanger – The oil capital
Stavanger has several interesting museums to offer, like the Stavanger Museum. It portrays the city's history and displays of preserved wildlife. There is also the Norwegian Petroleum Museum describing the oil industry. It has submersibles, a large drill bit, and an escape chute for the adventurous.
Kongeparken
"Kongeparken", an amusement park, is also very popular among Norwegians. It is a fantastic place to enjoy your holidays. You can make your own chocolate in their little chocolate factory. Meet the lovable mascot Brumle and explore his kingdom full of magic and excitement. It has more than 60 attractions for the whole family.
Tønsberg – where children laugh
For many Norwegians, summer in Tønsberg is a tradition. Norway's oldest city located around 102 kilometers (63 miles) south-southwest of Oslo. It was founded by the Vikings in the 9th century. The commune's unique slogan "Where children laugh" speaks to its family friendliness.
If you have an interest in Vikings and history, you will love that Tønsberg is also home of Oseberg Mound. This is where the 9th-century Oseberg Ship was excavated.
Tønsberg Fortress
One of its most popular tourist attractions is the Tønsberg Fortress on Castle Mountain. It has ruins from Castrum Tunsbergis, Norway's largest castle in the 13th century. An outdoor music festival, Slottsfjell, is usually held there every July.
If you only want to have a cold beer at the waterfront, you can find the waterfront Tønsberg Wharf ("Tønsberg Brygge"). This is where most cafes, bars, and restaurants are. A few hundred meters along Rådhusgaten in the city center.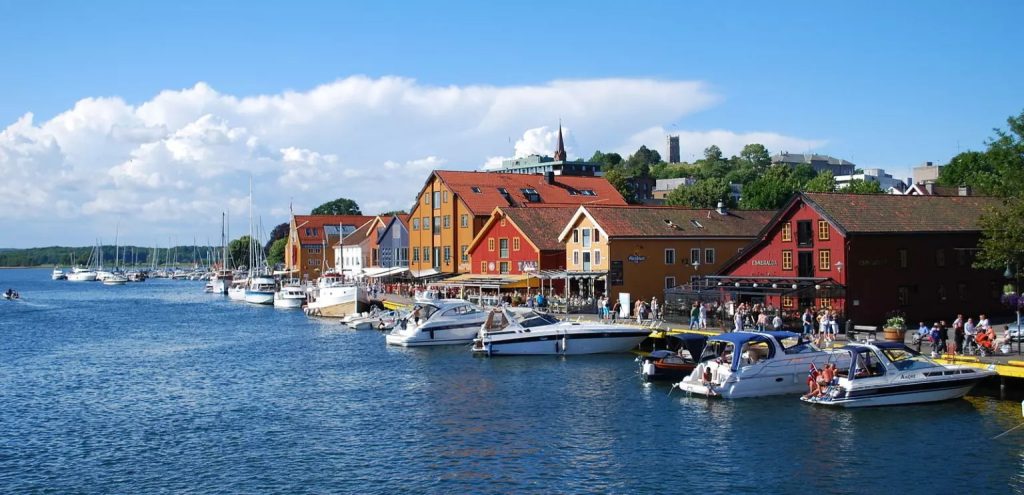 Stavern – a sunny place by the sea
Stavern is a small town by the sea, south of the city of Larvik. Stavern is one of the sunniest cities in Norway, with 200 days of sunshine per year. It is a beloved destination for Norwegians on holiday, with many cabins and camping sites.
Stavern's military history
"The Hall of Remembrance" is a famous monument, built to remember the fallen soldiers of the World Wars. You can also go to Stavern Fort or Fredriksvern Fort, a Norwegian naval base. Learn about Stavern as a historic military town, or enjoy artist's exhibitions.
Stavern also has absolutely lovely beaches and great photo opportunities all around.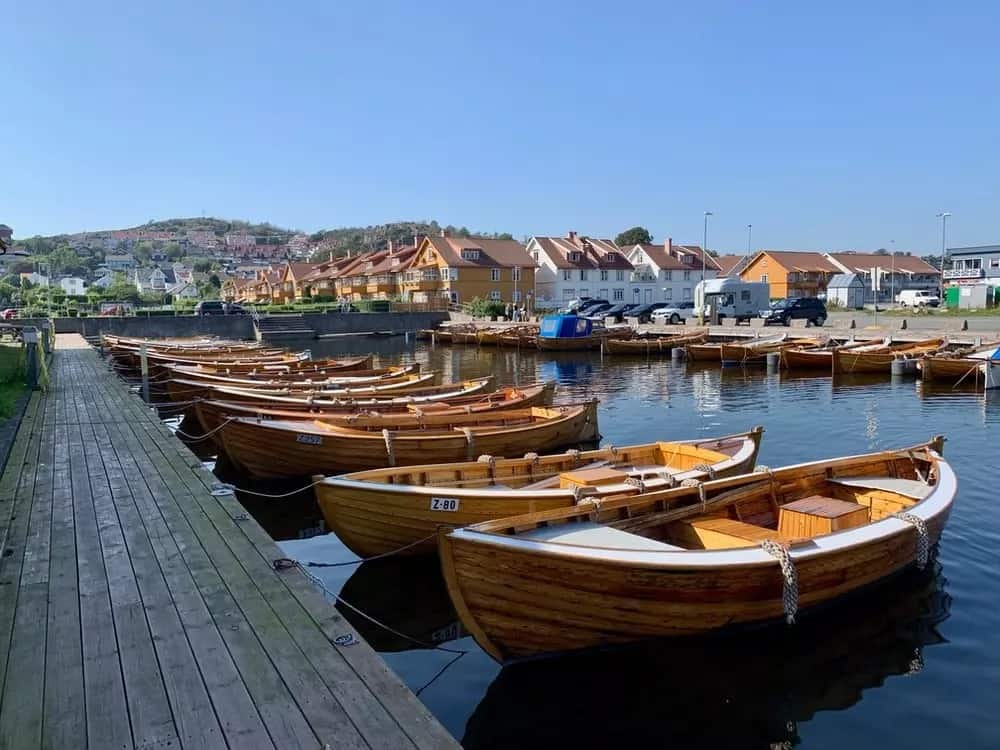 Åsgårdstrand
Åsgårdstrand is another much loved small port town for Norwegians on vacation. This perfect summer resort destination presents many fun things to do.
Among the attractions, you can visit the famous painter Edvard Munch's former home. If you like to hike, there is the Borre Kystled, a hiking trail leading to Borre National Park. You can also admire some restored old homes, enjoy small cafés, galleries, and take a swim at a great beach.
Åsgårdstrand is renowned for its elaborate Midsummer celebration, and huge bonfire by the shore.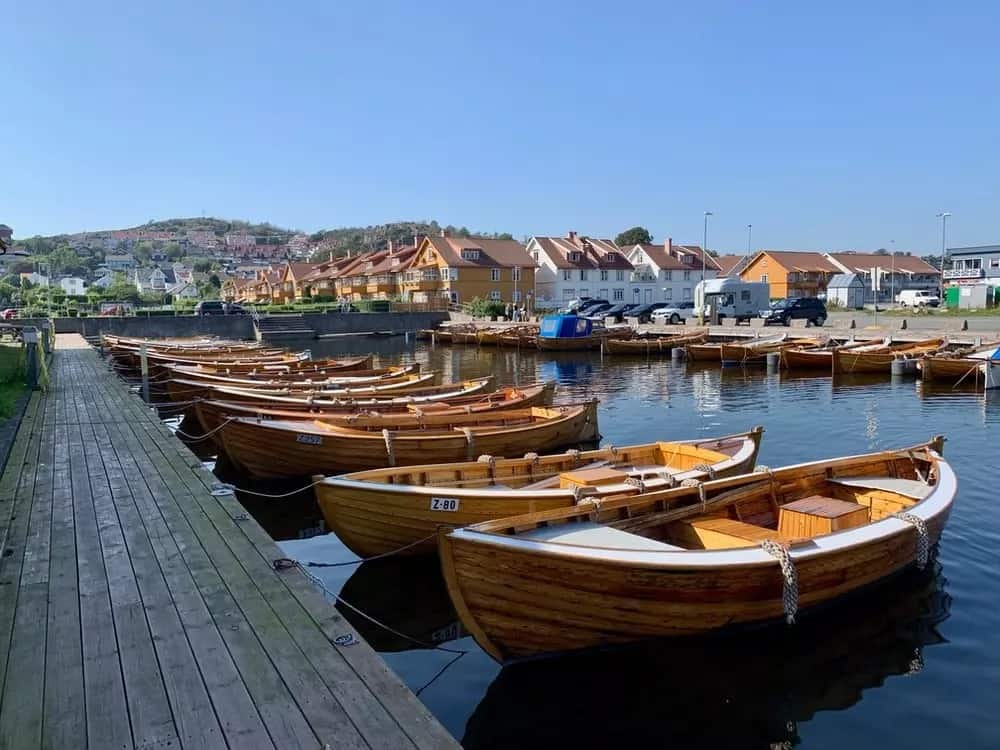 Son
Son is located by the Oslofjord, 50 kilometers south of the Norwegian capital Oslo. In this little city life is stress-free. No traffic lights or subway, only friendly neighborhoods, and visitors who enjoy life. You can stroll by the harbor, where boats offer fresh seafood, rent a kayak, go biking, or hiking.
The first houses in Son are from the 1620s, when timber was exported to Holland. This is something that many buildings in this tiny town are inspired by. Norwegians come here to completely relax at the famous spa.
There are also some amazing restaurants with food that is pure pleasure in itself.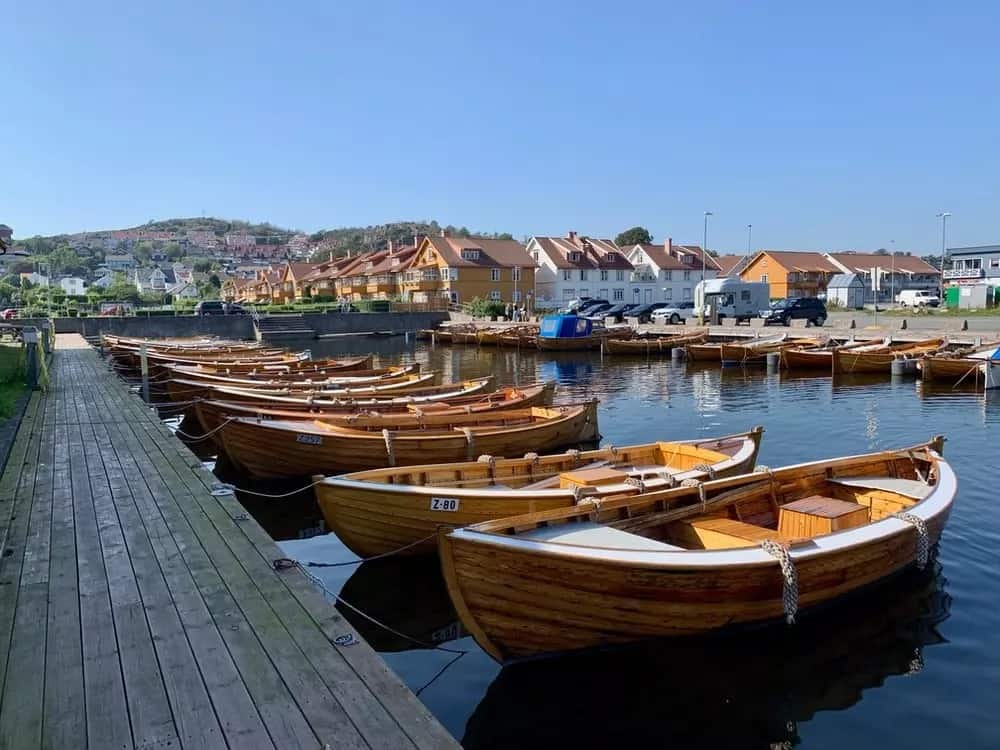 Sandefjord – the bathing city
Sandefjord has been a habitat for over three thousand years. It is home to the "Gokstad Mound" where the 9th-century "Gokstad Ship" was discovered. Sandefjord once had a whaling industry, that made it the richest city in Norway. It is now home to Europe's only museum dedicated to whaling.
This famous town is also called "Bathing City" due to its many beaches and former resort spas. Norwegians often enjoy their summer vacations here.
Midtåsen Sculpture Pavilion and Park
One of the most popular activities is visiting the "Midtåsen Sculpture Pavilion and Park." If you enjoy art – this is a must-see. Placed on a hill at Midtåsen, it features a selection of the works of Knut Steen. With twelve marble sculptures inside the pavilion and four bronze sculptures in nature.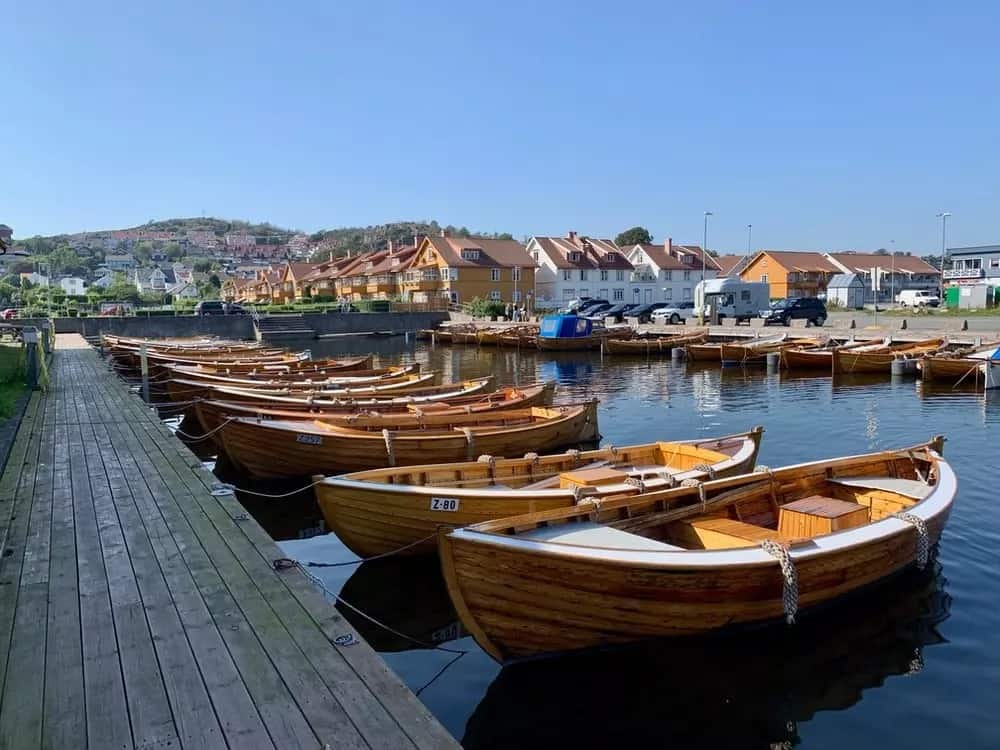 Henningsvær – inspiring artists for decades
For our next stop in this list of Norwegians favorite summer vacation spots, we go up north, to Henningsvær. This fishing village is located on several small islands off the southern coast of Austvågøya in Lofoten.
Fishing is a favorite hobby of many Norwegians, and this is the perfect spot for it. Climbing and diving or snorkeling are also popular tourist activities in Henningsvær.
You can stay in a Rorbu (an old fishermen's cabin) and eat the local stockfish, a snack made from spawning cod. The stockfish is also often the base of several dishes served in the local restaurants.
The magical light and changing weather here has inspired artists for decades. As a result, there are many art galleries and photo exhibitions to visit as well.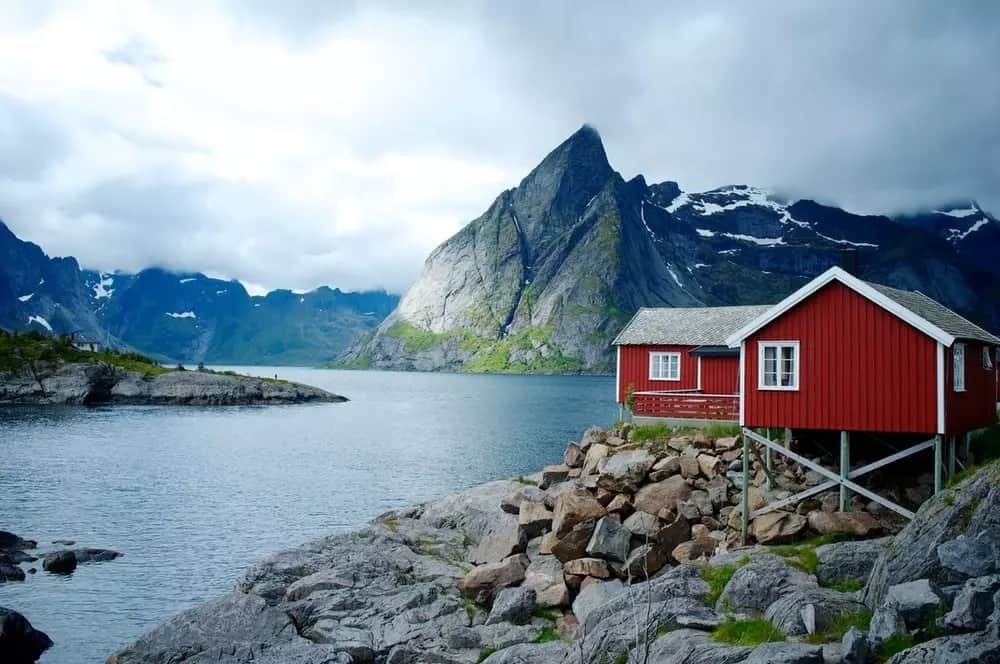 Flåm – the pearl of the fjords
This fairytale place situated between the fjords and the mountains of western Norway offers the best of nature and some of the most breathtaking views in Scandinavia.
There are many choices of how to explore Flåm and the surrounding areas, like fjord cruises or guided hikes, among others. Opportunities are great to find your favorite places to make some unforgettable memories.
If you want to know more about Flåm, you can see our article "Visit Flåm – the pearl of the fjords"
You might also enjoy our rundown of the Top 11 beaches in Norway.