Did you know that there are some incredibly beautiful beaches in Norway? We'd like to let you in on 11 secret wonders to put on your bucket list.
Are there beaches in Norway?
Norwegian beaches may seem like a peculiar thing, as many people think of Norway as a country of winter. Not every summer trip to Norway will have sunshine and temperatures above 20 degrees. A lot of these beaches will be worth a visit even if the weather does not make you want to take a swim. Because of their beauty and magnificent locations.
Let us begin in the south, with the fourth largest city of Norway, Stavanger, best known for oil and herring. There are many lovely shores there, and the first of the two we will share with you, is Godalen Beach.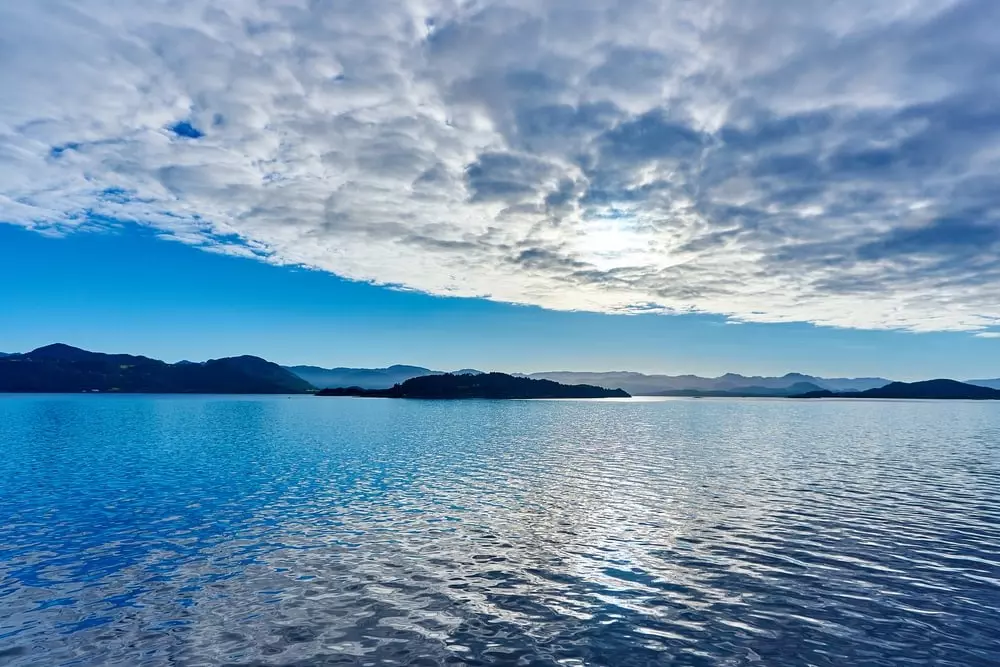 Godalen Beach in Stavanger, Norway
Godalen beach near Stavanger
This quaint beach is part of the popular hiking area near the fjord "Gandsfjorden." You will find a sandy beach, but you can also sit on the grass.
There are facilities for barbecuing (bring your own coal and food) and a fun playground for the kids. If you have a furry friend, the place is great for dogs too, you can also bring them to the closed-in dog park near Ramsvik. A small kiosk is usually open on the weekends and in the summertime.
How to get to Godalen Beach
To get to Godalen Beach, you can take a 30-minute walk from the city center, or if you go by car, access from Østre Ring. There aren't many parking spaces, so get there early if you are driving.
Get the perfect Scandinavian bag for the beach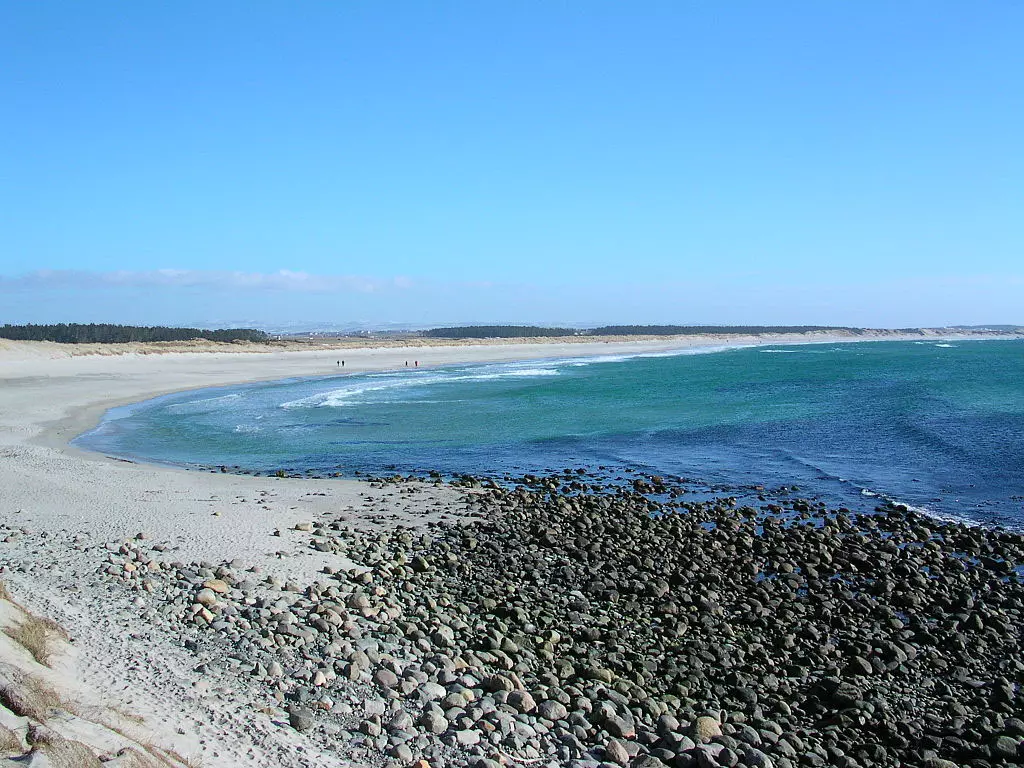 Orrestranda beach near Stavanger
The other beach we want to share with you near the oil capital, is Orre Beach. Known as the longest beach in Norway, a total of five amazing kilometers. You can enjoy a long walk by the sea, jog or take a swim, build a sandcastle, or enjoy the stunning view.
Sometimes there are also cultural events like concerts here. Always something to enjoy, no matter the weather. It can be windy, so always bring clothing that can handle some huff and puff from the Nordic gods.
If you enjoy a good surf, you can push your limits here. You will find some desert roses as well, they tend to pop up after a storm, like in the Sahara. You can buy food at the restaurant in Friluftshuset, or bring your own for the barbecue.
How to get to Orrestranda
You can drive there and park at the recreation center called "Friluftshuset", or the nearby "Orreparken."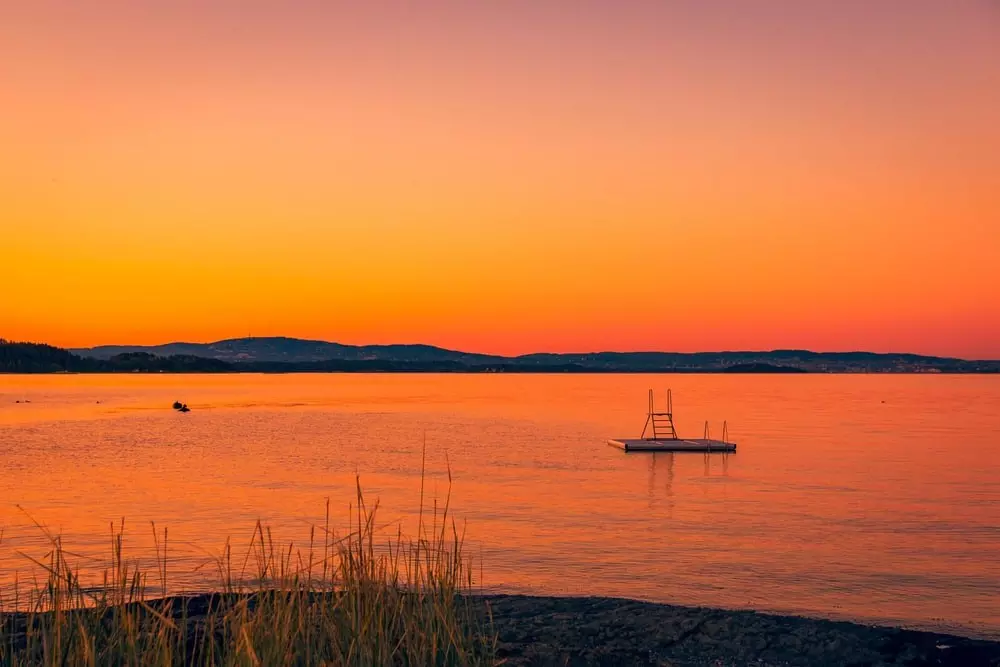 Paradisbukta beach near Oslo
Paradisbukta beach near Oslo
If you are planning a trip to the capital of Norway, Oslo, there are two beaches there that should check out. The first one is Paradisbukta, Paradise Bay! When the sun is glittering on the dark blue waves, this is a paradise to enjoy.
Are you visiting the Viking museum nearby? There is a twenty-minute stroll from the museum to the beach. If you like sports, there are opportunities for both volleyball and basketball. Enjoy the sandy beach or sit on the stone shore, there are opportunities for a barbecue as well. A lovely beach where you also can enjoy a beautiful sunset.
How to get to Paradisbukta
You will find this beach at the tip of Bygdøy. You can get there by bus from the Oslo city center, or if you go by bike there is a 5 km ride from Oslo city center.
Grab some beach sandals and hiking shoes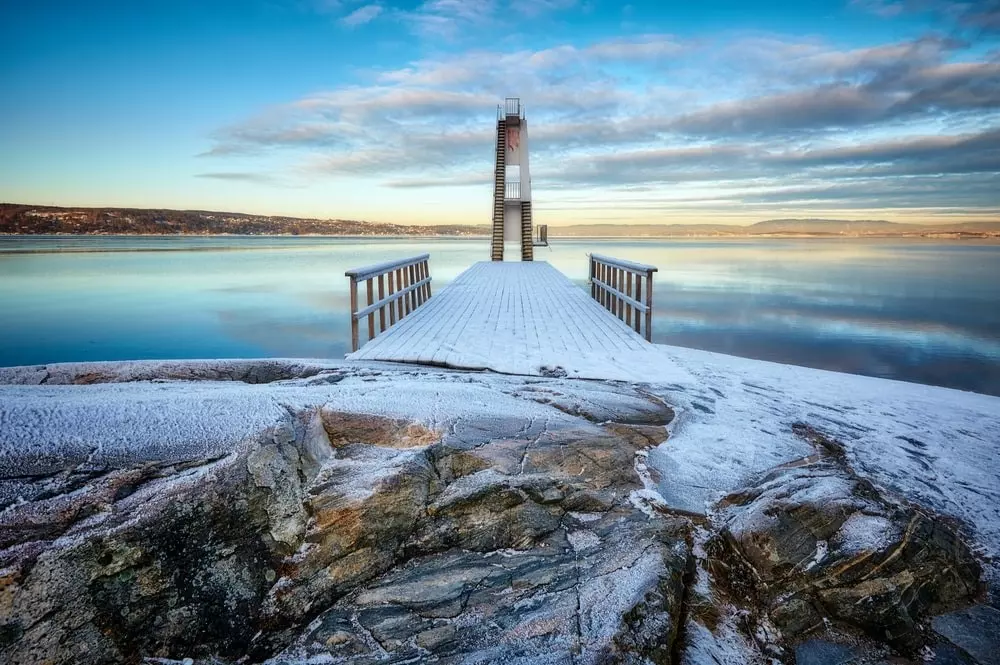 Ingierstrand beach near Oslo
Ingierstrand beach near Oslo
Ingierstrand is the other beach near Oslo that we want to tell you about. Situated by the fjord "Bunnefjorden" in Oppegård, Ingierstrand Bad is a very popular area. Here you can choose between a sandy beach, the grass plain or the pebble beach.
There are even some docks for the kids to go fishing for small crabs, and a diving tower. Challenge yourself or your friends to take a plunge from 1.5, 3, 5, or 10 meter's height.
Ingierstrand restaurant is right at the entrance. There is a hiking trail nearby if you want to take a walk before or after your swim. Explore all the possibilities at a place the whole family will enjoy.
How to get to Ingierstrand
You can get there by bus or car, biking is not recommended on the narrow roads.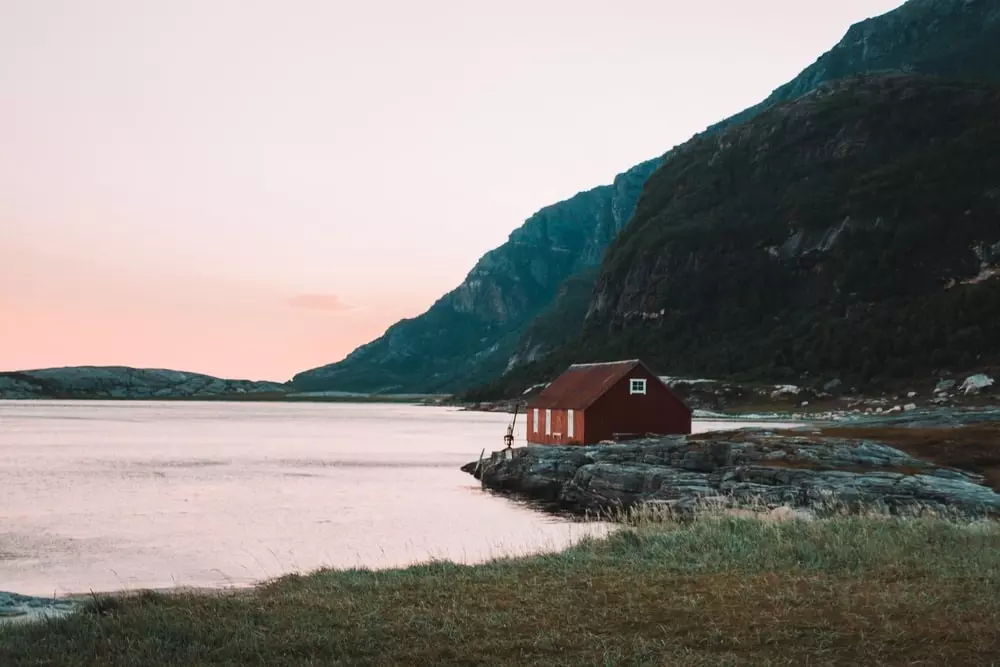 Mjelle Beach near Bodø
Our next stop is further north in Norway, at beautiful Mjelle Beach in Bodø. A town in Nordland between Vestfjorden and Saltfjorden, north of the Arctic Circle. Not the first place you would assume had one of Norway's most beautiful beaches?
The water may be a bit brisk, but the sand of this secluded beach is very special, as it is both white and red. The red sand gets its color from particular gemstone particles called garnet minerals.
For the kids, this is a giant sandbox filled with treasures like shells and stones polished by the sea and sand.
How to get to Mjelle beach
This one of a kind experience is about 25 km from the center of Bodø. You can go by car or join others on a guided excursion with minibus.
Look great and stay cool with these beach caps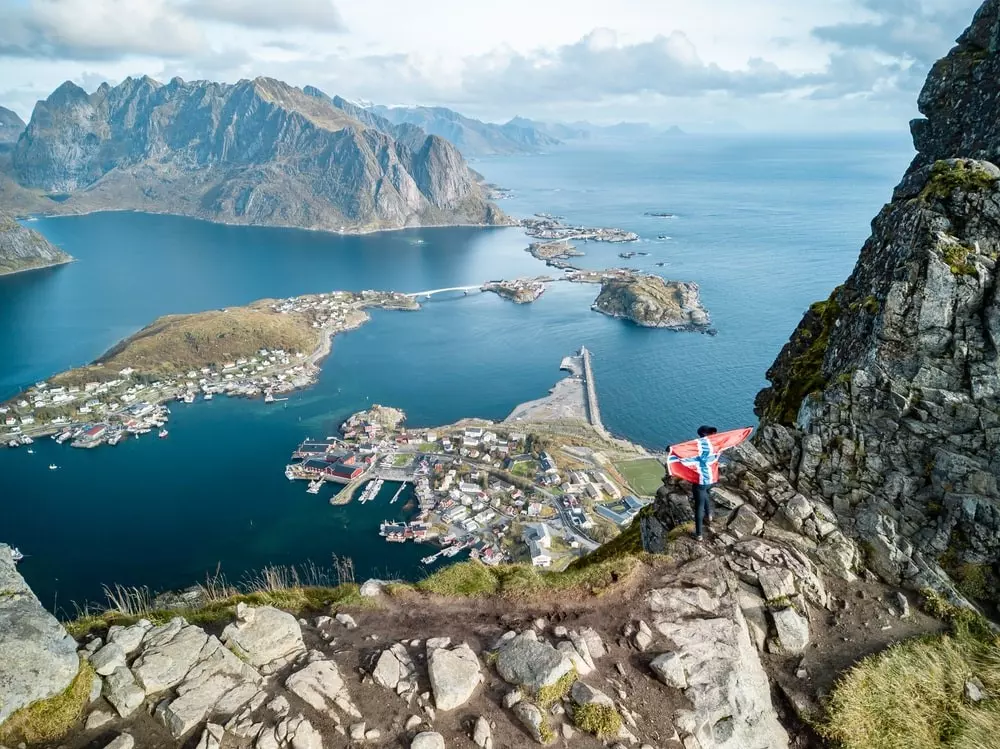 A stunning view of Lofoten in Norway
Beaches in Lofoten
Approximately 135 kilometers from Bodø, you will find our last stop, Lofoten. An archipelago famous for its Northern Lights, Midnight Sun, and spectacular mountains. Lofoten is a popular destination for fishing, hiking, and kayaking among other adventures.
In Lofoten, you will also find 6 different beaches that are truly worth a visit.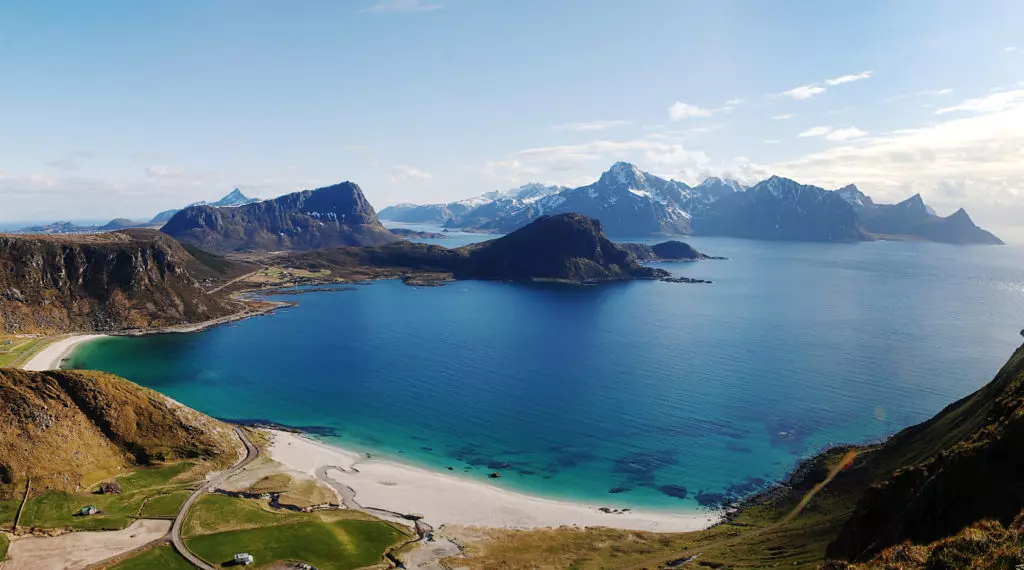 Haukland beach in Lofoten
Haukland beach in Lofoten
Haukland Beach is only a 15-minute drive from Leknes. It is one of Lofoten's most famous beaches, and voted to Norway's best beach. You can explore the white sandy beach, swim in the crystal clear sea, or enjoy the stunning sunrise or sunset.
Also, a great place to experience the Northern Lights if you are lucky to be there at the right time. You can also hike in the majestic mountains nearby to Himmeltinden or Mannen.
How to get to Haukland beach
There is no public transport here, so go by car or bike the 8 km from Leknes.
Unstad Beach at Vestvågøy in Lofoten
Unstad Beach at Vestvågøy in Lofoten
Our next stop in Lofoten is Unstad Beach at Vestvågøy in Lofoten. This beach has been a surfers' favorite since 1963, when two young Norwegian sailors made their surfboards here.
A surf movie called E2K was made at Unstad Beach in the late 90s, making it famous among surfers around the world. With its high waves and strong winds, you can call it a surfer's paradise.
There is a camping site where you can stay while exploring the waves. It is situated about 12 km (15 minutes by car) from the Lofotr Viking Museum, so you might want to visit that too.
How to get to Unstad Beach
The best way to get to Unstad Beach is by car. There are some parking spaces on both sides of the beach.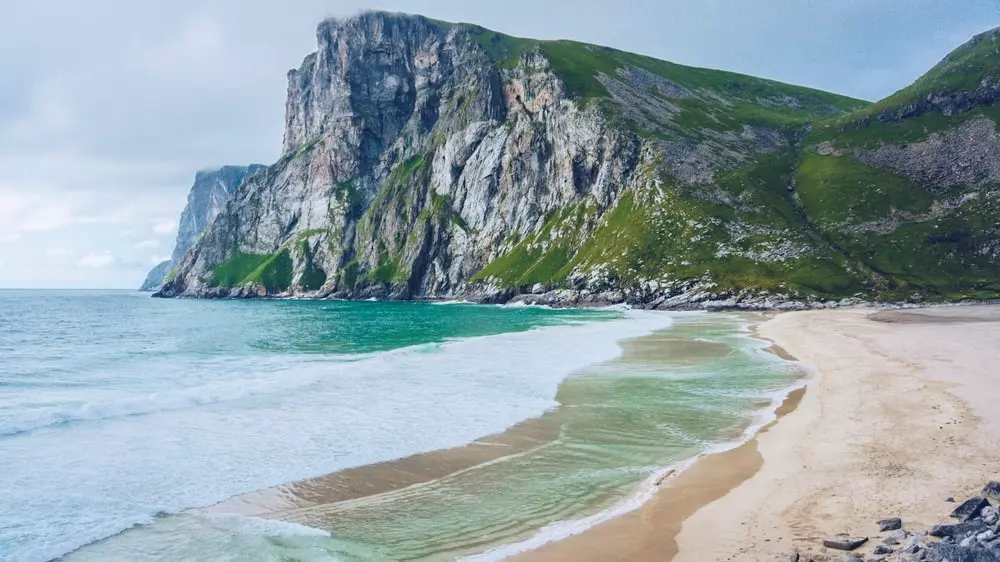 Kvalvika beach at Moskenesøy in Lofoten
Kvalvika beach at Moskenesøy in Lofoten
Kvalvika beach at Moskenesøy is another lovely piece of magnificent Norwegian nature. The steep mountains surrounding this beach is more than 600 meters high.
If the water is too cold for swimming, you can go hiking in the mountains instead. The one hour (each way) hike trail, with a peak at 170 meters, starts at the side of the road by a wooden sign that says Kvalvika.
Remember proper hiking boots for this trip. If you want to stay for a night or two, there is also a grass plain for camping by the beach. Bring your tent for a magical experience!
How to get to Kvalvika Beach
Drive by car. Find your way to Fredvang, and then continue for approx. 3 km until you reach a parking spot on the left side of the road.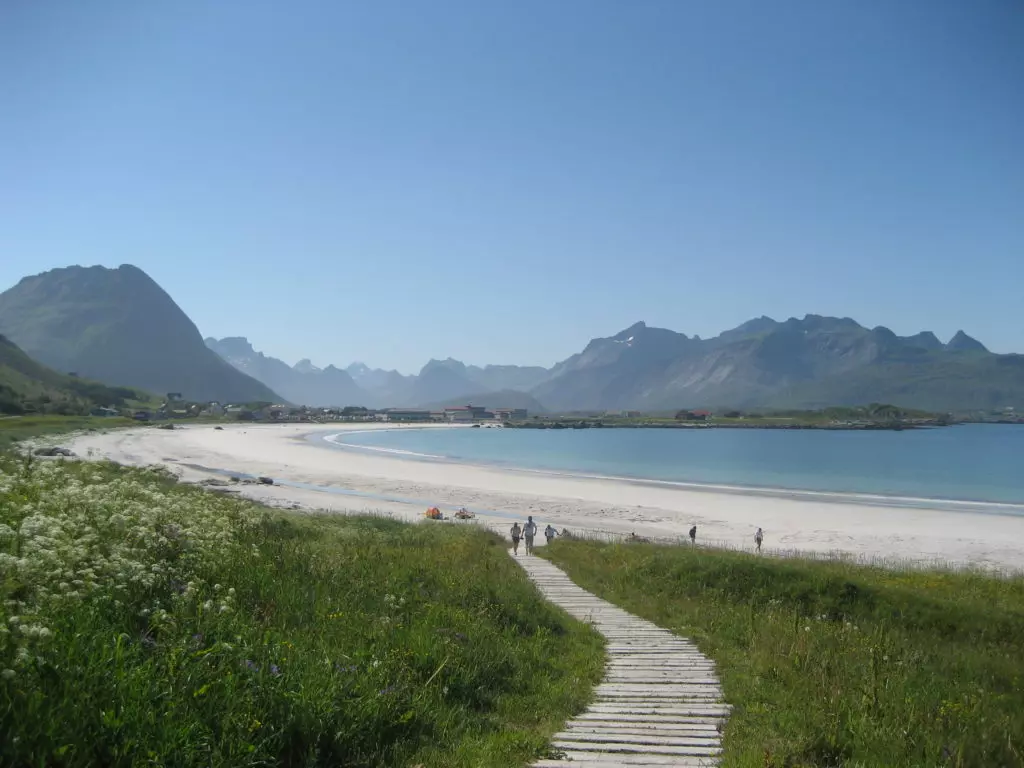 Ramberg beach at Vestvågøy in Lofoten
Ramberg beach at Vestvågøy in Lofoten
At Vestvågøy in Lofoten, you will find the popular Ramberg Beach, said to be one of the most beautiful beaches in Lofoten. Stretching along the small settlement, hidden between the mountains and the Arctic Ocean.
Exactly what you need for peace of mind – listening to the waves and watching the sunrise or sunset. For the best photographs, check out the viewpoint above the beach. You will find a sign directing you there.
The Gulf Stream makes the water temperature a bit warmer than you would expect of the Arctic. Most visitors still consider it to be quite refreshing!
How to get to Ramberg beach
You can drive there by car – the beach is located next to the E10 road. It's also accessible via Ramberg Camping.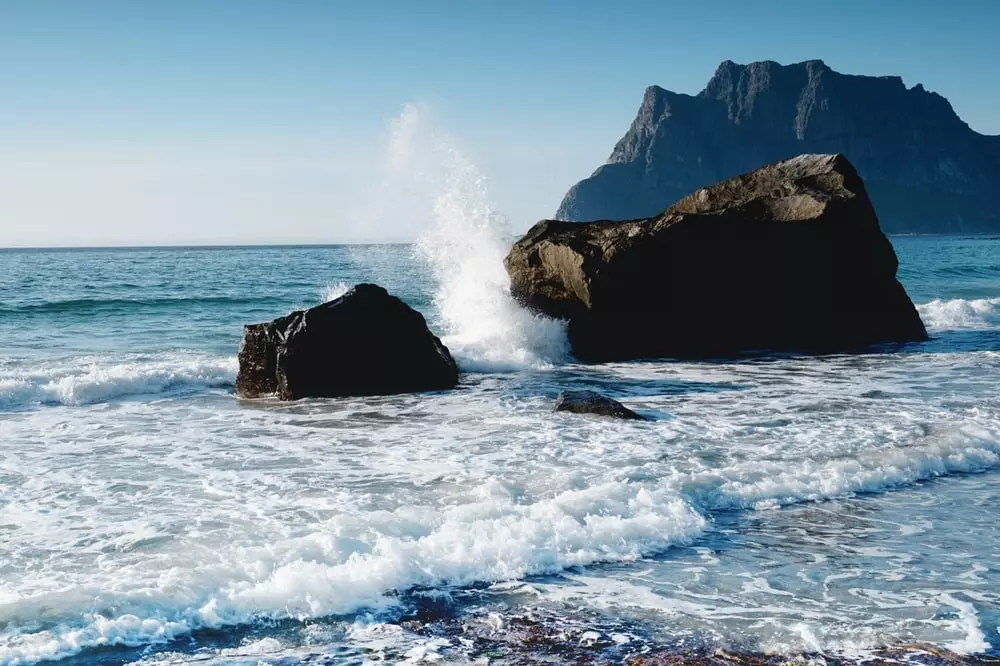 Uttakleiv Beach at Leknes in Lofoten
Uttakleiv Beach at Leknes in Lofoten
Uttakleiv Beach at Leknes in Lofoten is a remote location, but one you will never forget for its beauty. Beware of the friendly sheep pottering about, and enjoy the view of the midnight sun.
If you have Viking blood you might want to take a swim or stroll along the sandy shore with the salty breeze from the sea.
You can camp here, and there are fire pits for barbecues. Bring a picnic basket and chase the Northern Lights at night?
How to get to Uttakleiv Beach
Drive 12km north from Leknes. The parking is on the left side of the beach, a short drive past the village.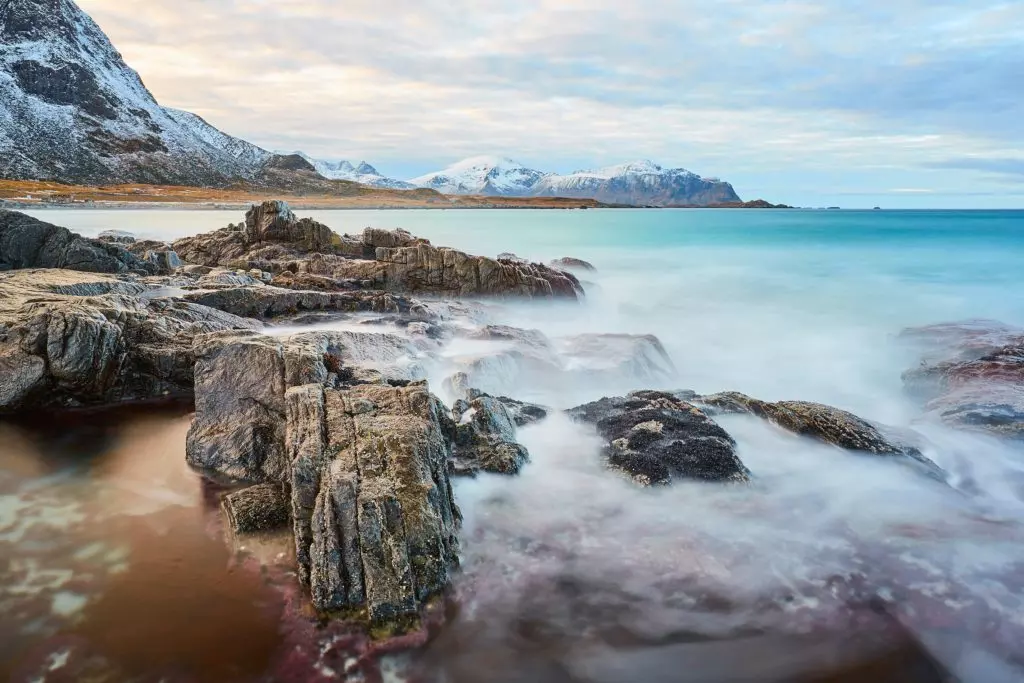 Skagsanden beach in Lofoten
Skagsanden beach in Lofoten
Our last stop is Skagsanden beach in Lofoten. This golden beach is famous for a stream creating peculiar and forever changing patterns in the sand where it meets the ocean. It is one of the best places to chase the Northern Lights, as it has a great view to the north.
How to get to Skagsanden beach in Lofoten
Skagsanden is 3 km east from Ramberg, before the turnoff to Flakstad. It has easy access, close to the parking lot, a perfect place for adventure.
Are you equipped for exploring the Nordic beaches? Check out our webshop for clothing, shoes, and accessories to make your trip perfect.