A twitch here, a twitch there, too tight around the knees, too loose around the waist – We all have had our negative experiences with base layers. That is why we collected our suggestions for how to choose the perfect base layer in this guide.
Find out
– What material is best suited as base layer
– Which fit is best for your bodyshape
– How to maintain the perfect body temperature
– Which brands and products we recommend
What should you expect from a base layer?
All textiles that are in direct contact with your skin should meet your highest requirements! You can wear the best sweater or jacket, but it means nothing if your underwear does not give you the same comfort. We can probably all agree that garment touching your skin determines much of how you experience a trip in different weather conditions. We know, it can be difficult to navigate the wide range of functional underwear available on the market. We have previously described how to dress according to the 3-layer principle for best protection against the cold. Now we are taking a closer look at what makes a good first layer.
Material
Traditional wool or modern synthetic garments, the materials you choose as base layer determine the wearing comfort and care.
Wool vs. Synthetics
Wool is the classical base layer choice and the starting point for many modern synthetic fabrics. Wool transports moisture from the body outwards and ensures that you do not feel sweaty, even during activity. In the winter, it generally insulates against the cold very well, wether you choose a thicker or thinner version.
What many appreciate about wool clothing is that it is antibacterial. This means that wool, compared to synthetic fabrics, does not smell as much. After use, it is often sufficient to hang your woolen clothes outside to air, instead of a full wash. Should your wool underwear need a wash anyway, most modern wool garments can withstand being washed in the wool program in your washing machine.
We at Mall of Norway are very fond of woolen underwear and only sell our favorites here in the webshop. Check out some of our personal favorites:
Modern technical materials are a good choice for many activities. A lot of people like to use polyester, nylon, or a mixture of different materials during activities in autumn or spring, when temperatures are not too extreme. We recommend choosing synthetic fabric that are thin and light, allowing your skin to breathe. Otherwise, synthetic fabric quickly becomes a garment that closes you in and absorbs moisture, which leads to an uncomfortable smell that is not so easy to get rid of in the washing machine.
You haven't yet found synthetic underwear that is perfect for you? Our selection of sports underwear from 4F offers  functional garments that adapt to your needs during any activity.
Baselayers for women and men
If you've ever been tempted to buy a shirt or tights that were designed for the opposite sex, you may have been in for a surprise. While it is possible to buy men's jackets or sweaters as a woman, and vice versa, this becomes difficult with base layers. A base layer should lie close to the body and is therefore often adapted to the gender-specific body shapes. Tights for men often have a pouch that ensures a better airflow and less sweat in the crotch. Tops for women give the female breast space. We therefore recommend buying gender-specific base layers.
About zippers
Trends come and go, but there is always a choice between jerseys with and without zippers. Zippers again come in different designs, such as half zippers or full zippers. Speaking from experience, we recommend that which ever zip size you choose, you go for good quality. Nothing is more annoying than a zipper that blocks, rips, or shifts. Especially when you have several garments on top of your baselayer, access is already difficult and you would definitly want to avoid unnecessary frustration when you are trying to enjoy a ski trip, a jogg or a walk in the city.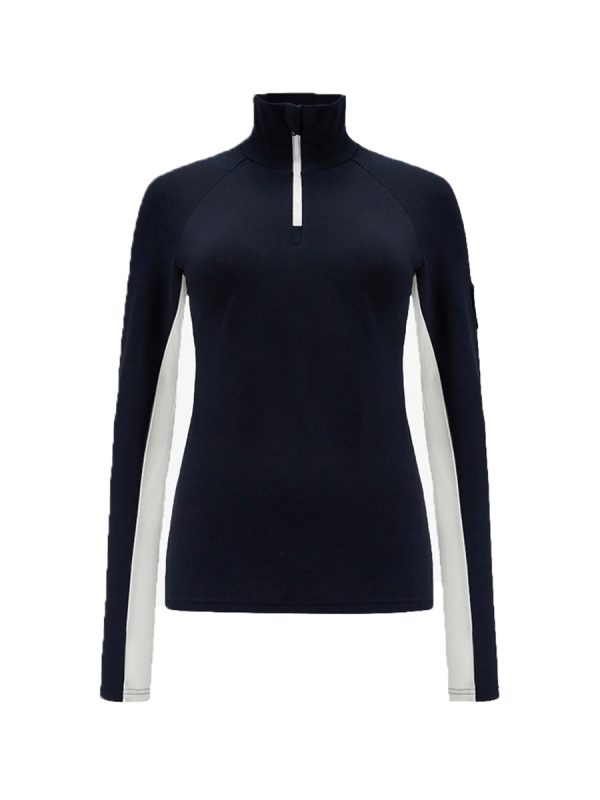 1.599,00 kr
Sleeves
It makes sense to consider the sleeve length depending on your needs. The largest artery in our body runs right next to the wrist. The temperature there regulates the temperature of the entire body. If you get hot quickly, it is recommended to choose a short-sleeved t-shirt, while long sleeves that cover parts of the wrist are good for those who get cold easily. Check out our tops and t-shirts with different sleeve lengths.
Comfort and quality
Functional baselayers have become an all-season garment that is not only used as an undergarment, but also as a statement piece. In the summer, it is wonderful to wear wool or synthetic materials that are not too thick and let air in. But thin fabric does not necessarily mean that the base layer is not warm. Like a cameleon, the same garment that lets you breath during summer can keep you warm during winter activities.
Wool and high-quality synthetic materials ensure a perfect temperature balance. We therefore recommend buying base layers of good quality. Our selection of the best materials and exclusive designs are available to you here in the webshop.