Norwegians love wool! For years, wool has kept Norwegians warm. Through generations they have learned the natural and unique qualities of wool, and have in many ways defined their common culture, who they are and their history.
The best way to experience the Norwegian nature is to wear nature's own performance fiber – Wool.
Norwegian wool – traditions and history
Norway has a strong tradition in sheep farming and wool manufacturing – an old tradition that dates back to long before the Viking era. It is estimated that the first sheep came to Norway more than 6,000 years ago.
The Norwegian sheep farms are mostly small-scaled and spread all over the country in diverse agricultural landscapes. Sheep roam freely in mountains, forests and hills during the grazing seasons. They drink the purest water and eat the most nutritious food nature can offer. Norwegian sheep are truly powered by nature, how they live the good life and feed on healthy natural grass creates strong animals with wool of exceptional durability, resilience and radiance.
There are 16 different quality classes of Wool. The wool is classified after a strict quality criteria set by the Norwegian wool standard. When the quality of the wool is set, there are a lot of criterias to look at; time of the year, hair thickness, fibre length, ripple, content of marrow and dead hair, grip, gloss, colour and how clean the wool is.
Wool with the highest quality is classified as C1, and comes from the Crossbred sheep. C1 wool is always shorn in the autumn, and the sheep wool fleece is grown outdoors for around half a year. The wool has to be soft and rippled, with good resilience, and low fat and dirt content. Annually, there are about 4.5 million kilograms of wool sheared in Norway.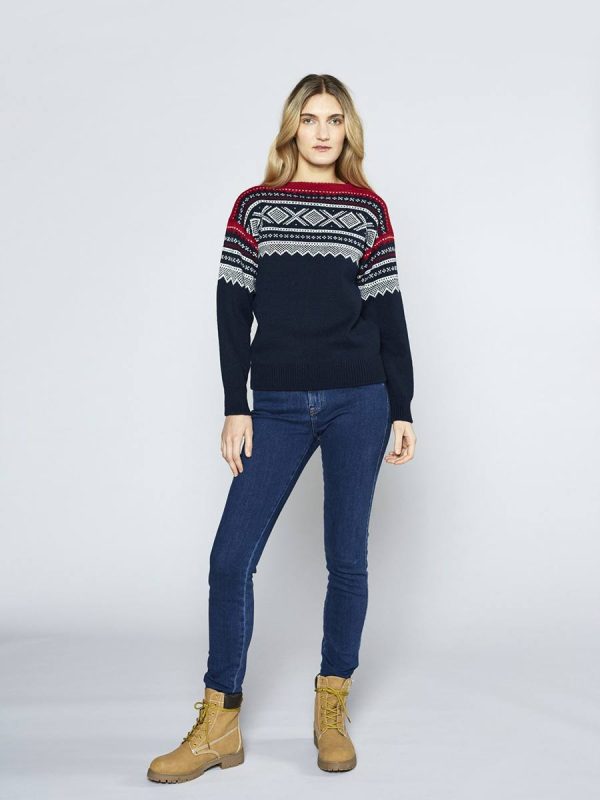 2.190,00 kr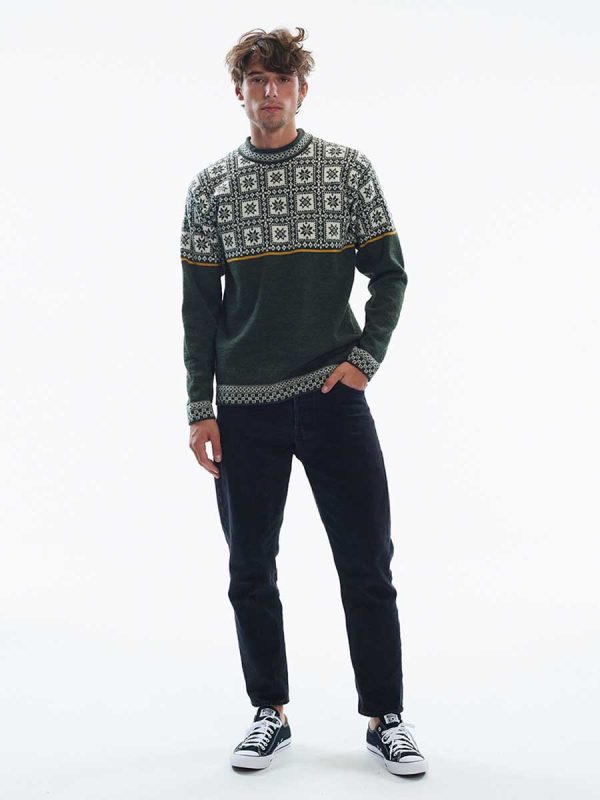 2.799,00 kr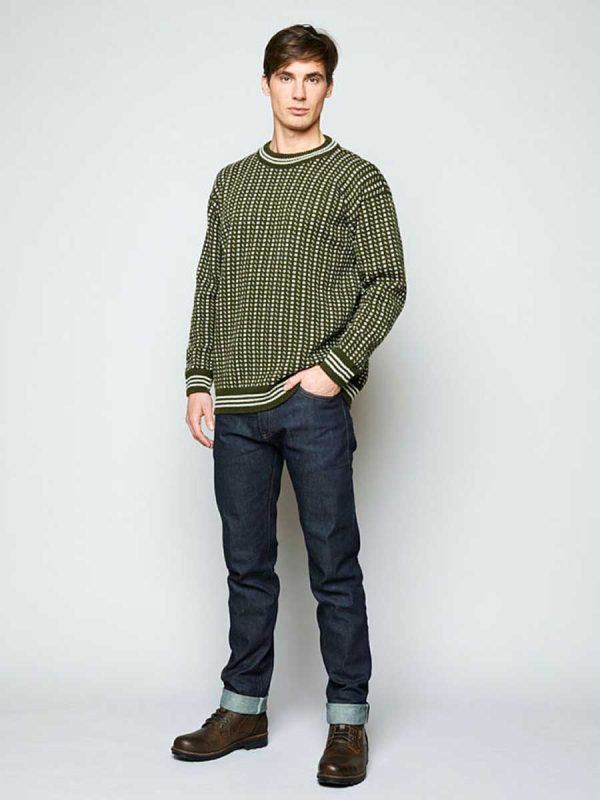 2.290,00 kr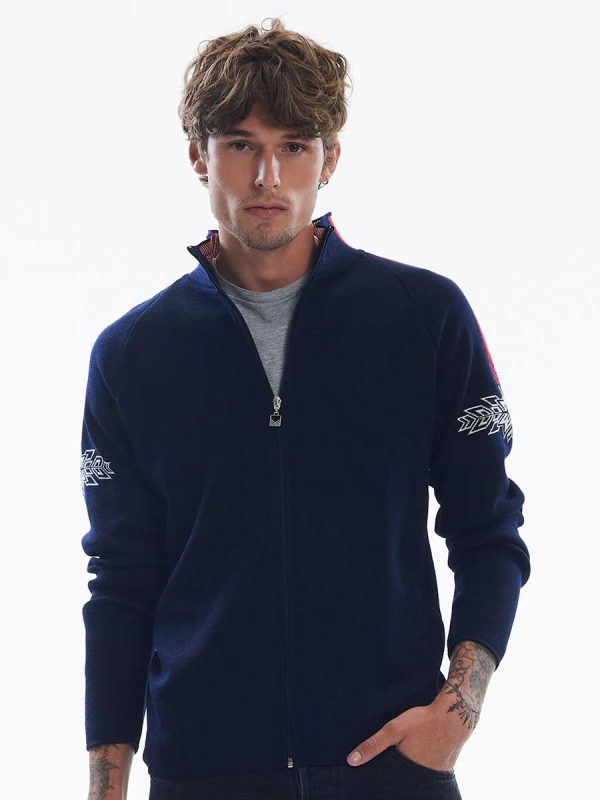 2.799,00 kr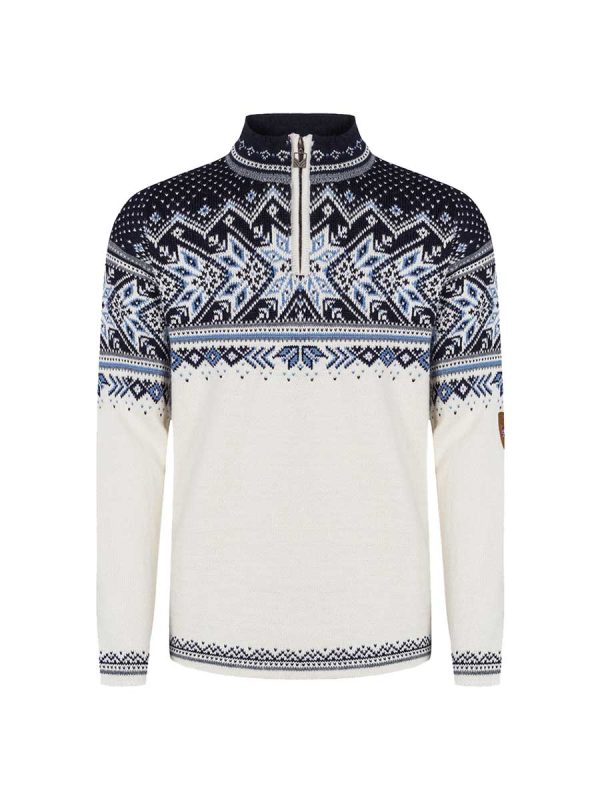 2.799,00 kr – 3.199,00 kr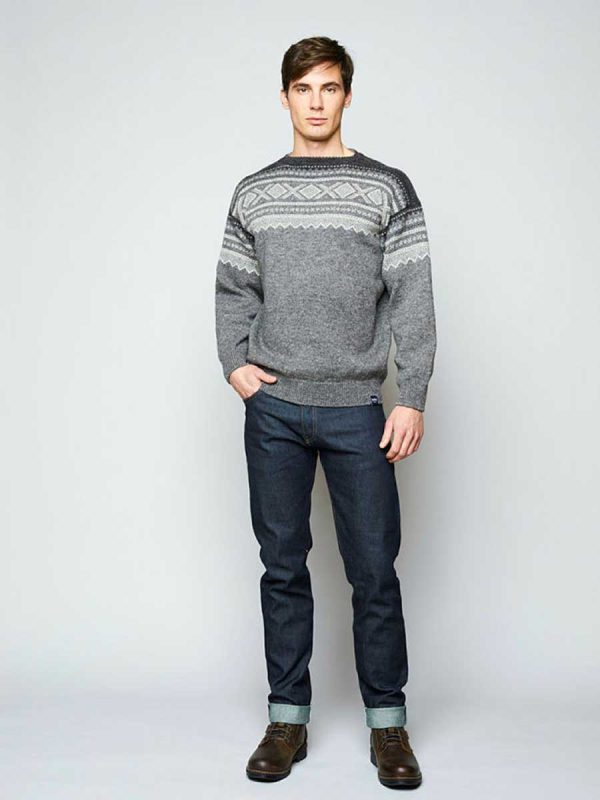 2.190,00 kr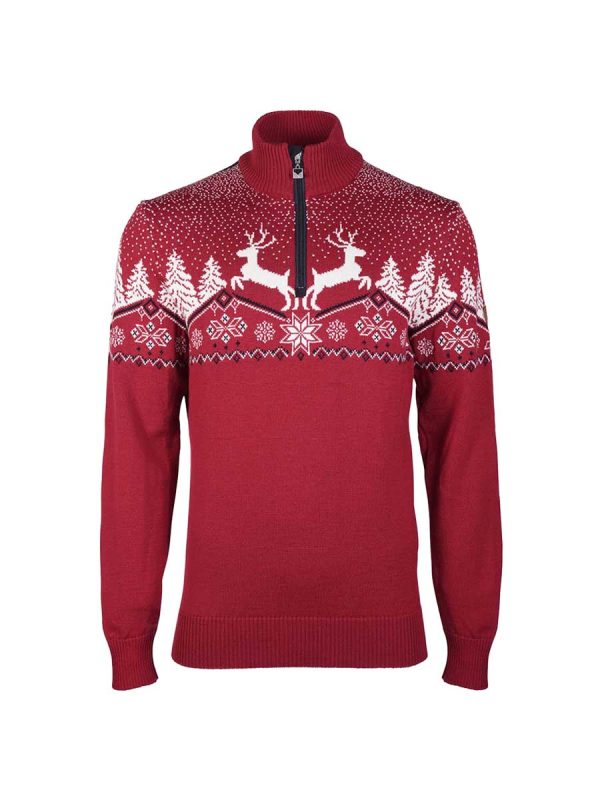 2.999,00 kr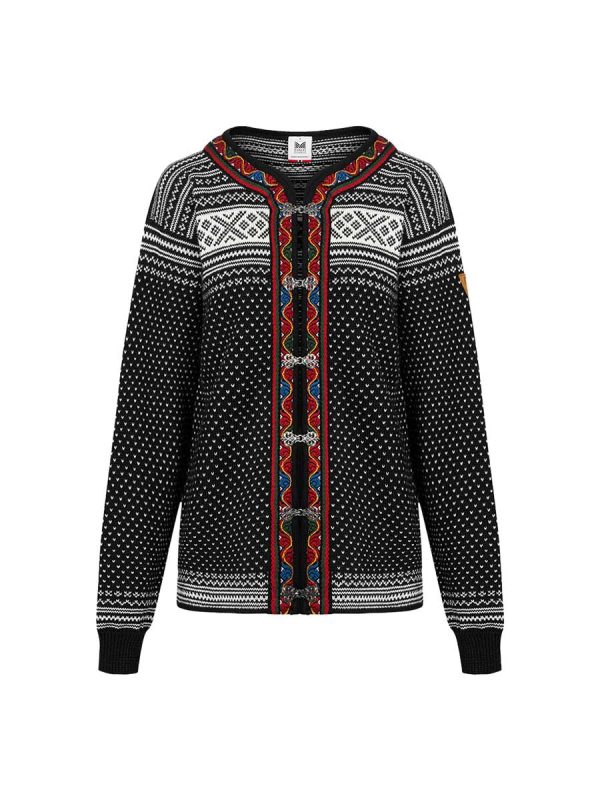 3.499,00 kr
Why wool?
Wool is an active fiber that breathes and regulates the body temperature. It keeps you warm when it's cold in the winter, and cools you down if it's too hot in the summer. In cooler weather the natural crimp in the wool fibers creates tiny pockets of trapped warm air, acting like insulators and isolates the heat close to your body. When the body temperature rises the wool extracts the moisture from your skin to evaporate.
Wool fiber has the amazing ability to absorb around 30% of its own weight in moisture without feeling wet, keeping your skin dry and prevents sweat from building up. Wool is therefore the perfect material to use all seasons, both summer and winter. It's nature's own miracle material that facilitates maximum freedom of movement, performance and comfort all year.
Wool absorbs UV radiation really effectively, a lot better than other materials, and has an UPF between 20 and 50, making it a natural sun protection for your body.  It is naturally flame resistant and offers a greater level of fire safety than other fibres. The temperature needs to surpass 570 degrees before it will ignite, and it's very unlikely to catch flame, which makes wool fabrics a very safe choice to use as garments.
Wool garments are natural wrinkle free and stay true to their original form, even after years of use. It is also self-cleaning and stain resistant, as the fibers outer coat consists of a protective layer that prevents dust and dirt from getting stuck. Wool has a natural resistance to growth of bacteria and odors. Because of these unique characteristic features, you can wear woolen clothes for several days without the formation of odors.
Cotton, on the other hand, becomes moist and smelly after a short time. A comfortable t-shirt made of 100% merino wool is therefore a popular choice to wear for summer activities such as hunting, fishing, running and hiking.
Wool is perfectly suited for the Norwegian climate, where the temperature and weather can drastically change within minutes.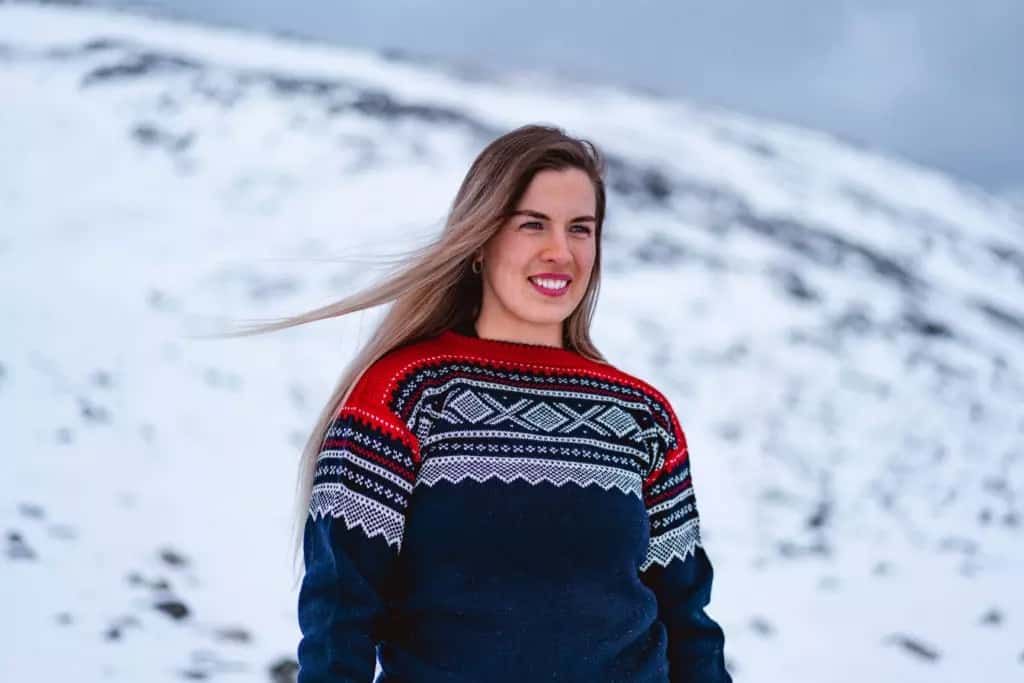 Sustainable
A cool climate reduces bacteria and other pesticide problems, so there is no need for wool to be using strong chemicals, hence it's very natural. Norwegian sheep graze on natural habitats where no pesticides are used. Norwegian sheep develop new fleece every year, making it a natural, renewable resource.
It is 100% degradable as the wool decomposes in the soil slowly releasing valuable nutrients back into earth. 75% of Norwegian wool production is approved by The Swan, a Nordic eco-label.
How to wash and care for wool
Wool is an essential part of the Norwegian culture and traditions. As soon as it gets cold outside, they wear woolen clothes to keep warm throughout the winter season. At the same time, there are some uncertainties about how wool garments should be cared for and washed. Wool is a very durable material and if you care for it properly you can have it for a lifetime, even for generations.
Wool has self-cleaning properties and is easy to keep clean. The self-regulating fibers don't need to be washed as often as other materials. Dry the garments after use, hang for aeration and use again.
How to machine wash wool
Washing wool is easy, and many wool clothes can be machine washed. Read the washing label for detailed instructions, and follow these simple steps to insure the lasting beauty of your woolen clothes.
Close all zippers and turn the clothes inside out
Wash on wool cycle
Use detergent suitable for wool, without enzymes or bleach
Don't use too much detergent. Too much detergent makes it harder to rinse the soap, and you will get poorer results.
Fill your machine half full to maintain the quality of the wool.
Slightly stretch the garment into original size after washed, while it is still wet
Hang the garment to dry, do not tumble or use a dryer
Popular Wool brands
In the Mall of Norway online store you will find a wide selection of wool clothes from popular Norwegian brands.
One of the most popular knitwear is the Christiana Womens Jacket from Dale of Norway. Inspired by fashion trends of the early 20th century, the jacket features traditional Norwegian patterns, made of 100% high-quality soft merino wool.
Marius Unisex Wool Sweater from Rauma. The Marius pattern is among the most popular classic knitting patterns in Norway. Comfortable half-pattern knitted sweater made of 100% Norwegian wool.
Narvik from Norlender Knitwear is the perfect Norwegian skiing sweater, featuring a zipper and a fleece-lined collar. Made of 100% pure new wool. Perfect for all cold climates, it is designed with a star at the front symbolizing the long Nordic winters.
Online store
You can find a wide selection of wool products from different brands in our online store. Every item in the online store is presented with a detailed picture. Choose color and size, add to cart and order. The prices include custom fees, tax and VAT. Mall of Norway has international express shipping with DHL, and can deliver to anywhere in the world.