You have probably seen the knitted sweater in the colors of the Norwegian flag, red, white, and blue, but do you know the origin of this famous pattern?
The origin of the Marius pattern
A former model and one of Norway's first female entrepreneurs, Unn Søiland Dale (1926–2002) was the woman behind the Marius. An avid knitter from her childhood, she studied languages in England and France before becoming a stewardess. Then she moved to Paris, working as a catwalk-model, before becoming a model in London at the fashion house Hardy Amies.
There was a lot of waiting on photoshoots, and she used every available moment to knit. Her work quickly became popular among her model friends, and she started taking orders, eventually establishing her own business, Lillunn Sport in 1953.
Norwegian Sweaters
After a successful start with her sweaters being sold in exclusive sportswear shops and being portrayed in fashion magazines in both London and Paris, she quit her modeling job and went all in to develop her business further.
After returning to Norway, she hired knitters from all over the country, and soon she had over a thousand women knitting and delivering sweaters to her company. "Norwegian Sweaters", inspired by old traditional knitting patterns and folk costumes, soon became fashionable and her designs were seen in many international fashion magazines.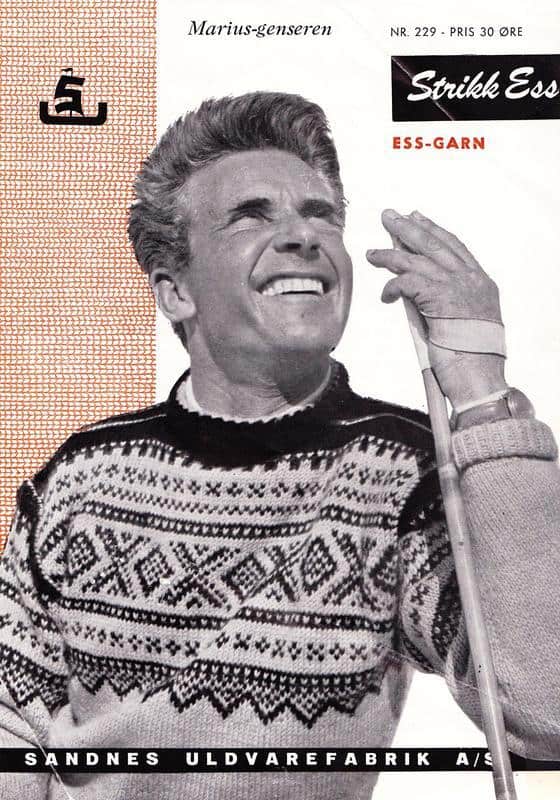 Marius in the movies
The pattern for the Marius sweater was designed by Unn Søiland Dale in 1953, and it has since been the most popular knitting pattern in Norway, sold in over five million copies. In 1954, a well-known war hero from the Second World War, fighter pilot and alpinist Marius Eriksen, got cast in the Norwegian movie "Troll i ord."
Unn Søiland Dale made the sweaters for everyone in the main cast. Marius Eriksen starred as the handsome ski instructor in the movie and the name "Marius" was established. The movie created a great knitting-hysteria in Norway.
Everyone wanted to knit the Marius sweater, and the demand for both yarn and pattern was huge. To this day the pattern is very popular, both in Norway and internationally.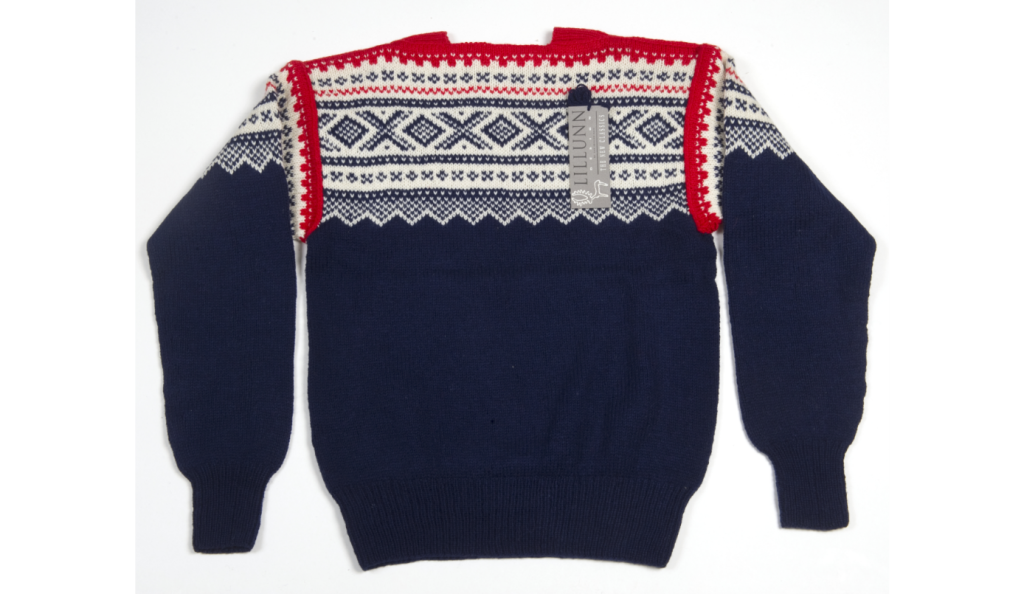 The classic Marius
The classic and most popular Marius has the colors of the Norwegian flag: red, white, and blue. When the designer made the pattern, she based it on another traditional Norwegian knitting pattern, the "Lusekofte" from Setesdalen.
Lusekofte
The "Lusekofte" dates back to the 19th century, and the traditional sweaters and jackets used the natural colors of sheep wool – black, gray, brown, and white. The pattern was altered and got brighter colors when she redesigned it to make it the Marius we all know and love today. As the years have gone by, this sweater is considered as Norwegian as the fjords and the Brunost.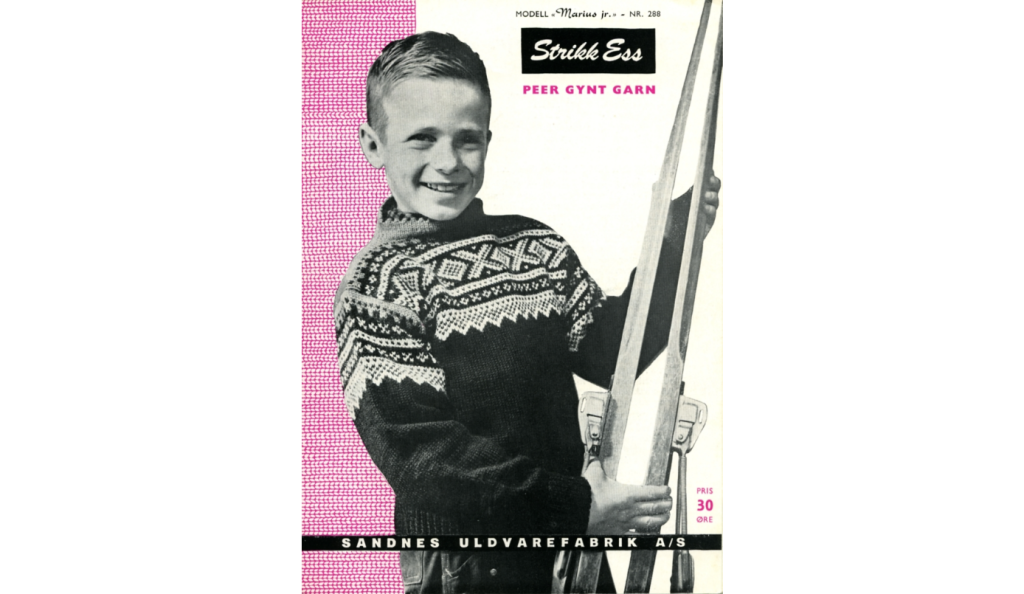 Knitting in Norway
It is unsure how early knitting was introduced in Norway, but the first archeological finds are dated between the years 1400-1500. Until the 18th century, knitting was mostly a job and not a hobby. The poor knitted to make money. When the industrial revolution came around, and yarn was easier to produce, it made it easier for everyone to take to knitting both as work and a hobby.
As the years went by, knitting became a very popular activity, and patterns were made locally, like the folk costumes every corner of Norway had its own traditions. Popular motifs were often based on nature, like snowflakes and flowers representing different landscapes where the people lived.
This resulted in collections of knitting patterns being made. Like former collections of fairy tales, carefully curated by Asbjørnsen and Moe, Annichen Sibbern traveled all over the country to collect different knitting patterns, resulting in the book "Norske strikkemønstre"(Norwegian knitting patterns), published in 1929.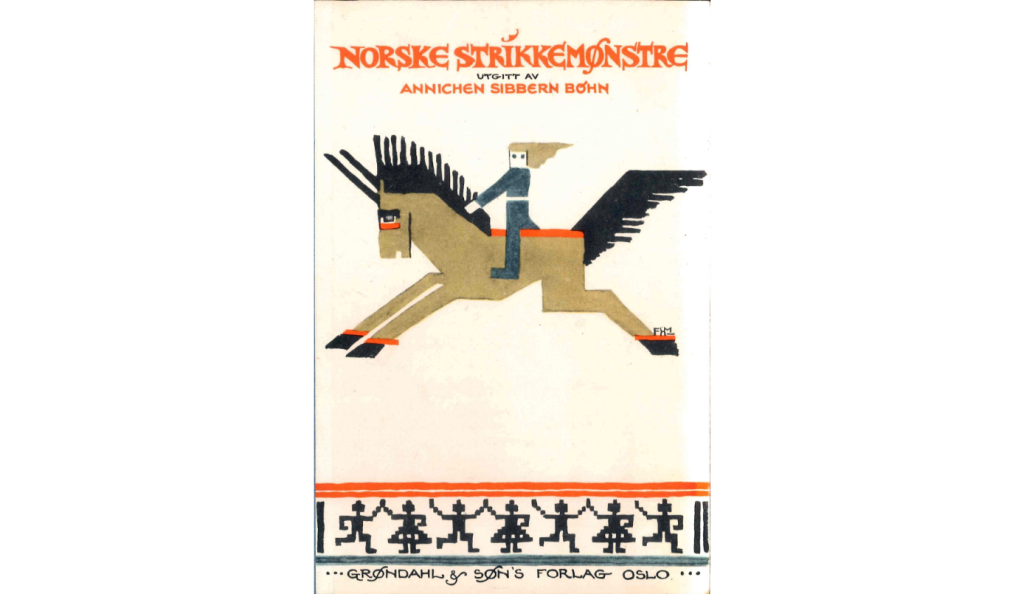 Norwegian knitting yarns
Knitting is a popular hobby in Norway, and knitted garments found in Norway have been dated as far back as between 1476 and 1525. In hand knitting, wool from sheep is the most important yarn material. The strong, Norwegian wool means that many older cardigans are preserved and in use. It is also knitted a lot in alpaca and cotton. The market for knitting yarns in synthetic fibers, such as acrylic, is far smaller in Norway than in other countries.
One should also not forget the environmental aspect. By buying Norwegian yarn, you buy short-haul. The animals go out a lot in Norwegian nature and there is a great focus on animal welfare. The production at the spinning mills follows strict rules for the environment, and wool is a natural material.
Explorers and sportsmen
In the good old days, the influencers were explorers and sportsmen, and the sweaters they were pictured in, became sought after for both children and adults. Like before mentioned when sweaters were worn in movies, they became instant hits.
And we thought product placement in movies was a modern-day thing? To this day, the Olympic teams of Norway often wear sweaters made especially for the Olympics, like OL Passion from Dale of Norway.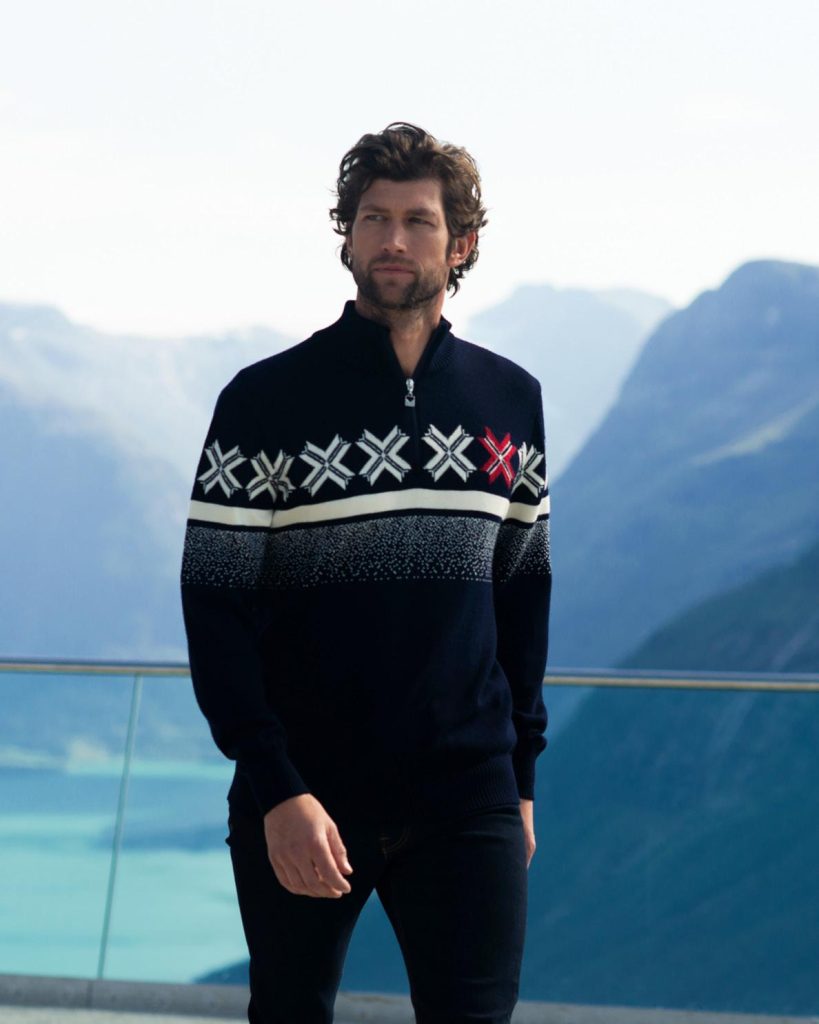 Knitting as a political protest
During the Second World War, Norwegians actually protested against the occupants by knitting and wearing red hats, called "Nisselue" (Santa's hat). It eventually became so popular that they were banned in 1942. If you were caught wearing one it was taken from you and you would be punished for it.
Artists like Kjell Aukrust and Thorbjørn Egner made postcards with motifs of people wearing them as a quiet protest. The ban also resulted in several postcards and Christmas cards being published with Santa and his helpers without hats or with hats in other colors.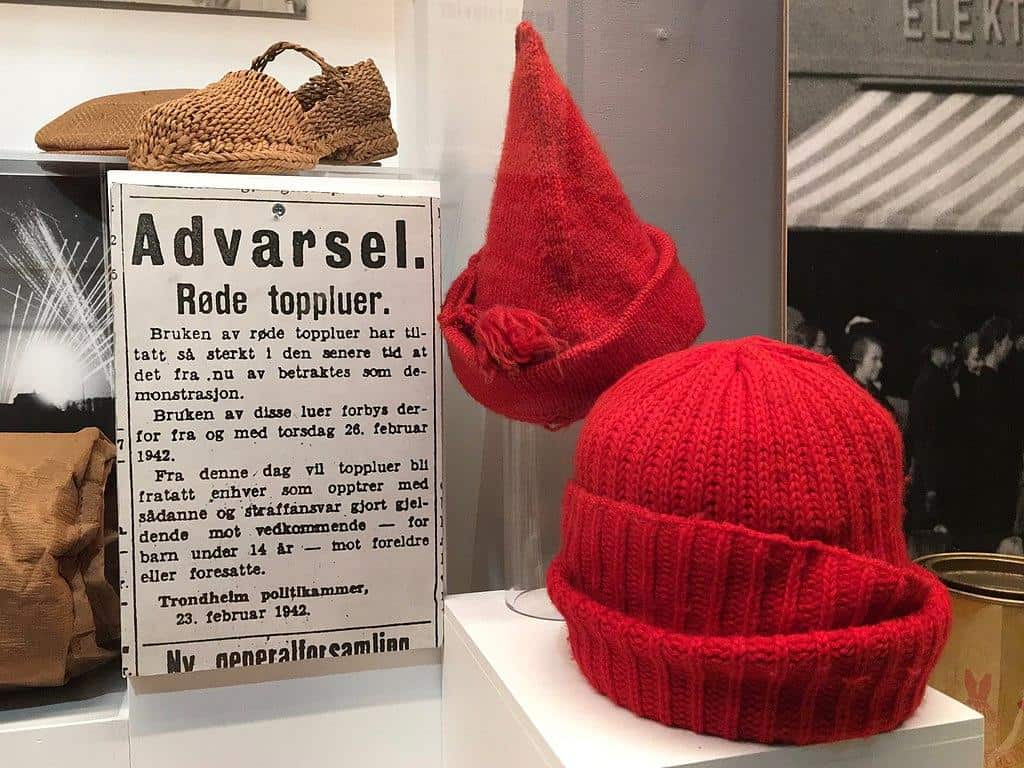 Marius for everyone
After some years when knitting was considered an old fashioned activity, it has again become very popular and trendy. People in general have become more aware of the environmental aspect of ready to wear clothes and long for the homemade clothes and natural materials.
Nowadays you can get a variety of colors and different variations of the pattern for the beloved Marius sweater. The pattern is also used on hats, mittens, dresses, Rauma Marius sweaters, jumpsuits, coats, and a lot of other things.
There have been published several books of Marius knitting patterns, even with happy cats and dogs wearing their Marius sweaters. It is no longer just clothes made of wool, but also lighter fabrics such as cotton and bamboo.
One of the most loved knitting patterns of all time
To this day the Marius is one of the most loved knitting patterns of all time. Almost all people in Norway will have had this sweater in some way, shape, or form, and the members of the Royal Family of Norway have also been seen wearing their sweaters when skiing or hiking in the Norwegian mountains.
These days the popular Marius is not limited to woolen knitted sweaters and other clothes. You can find the famous pattern on kitchenware like spatulas, napkins, thermoses, and thermo cups, as well as decorative items like playing cards, notepads, and candle holders.