Rauma Wool Factory and Rauma Collection
Rauma Wool Factory is a textile company that was established in 1927. Their production uses Norwegian wool as the base fabric, and the entire production process – from wool to finished garments – is completed in their own factory at Romsdalen, located on the Norwegian west coast. Rauma Wool Factory is the main possessor of the brands Rauma Garn (knitting yarn), RørosTweed (interior textiles) and Rauma Collection (knitted garments).
About Rauma Collection
Rauma Collection was established to develop traditional knitted garments made of 100% Norwegian wool. The collection combines the modern with the traditional and consists of versatile and comfortable garments for both men and women. Since they control the whole production process in their own factory in Romsdalen, they ensure quality at all levels, and can deliver products that keep you warm and will last for generations.
Rauma Collection products
Rauma Collection includes traditional sweaters such as Marius and Nordland, as well as the modern classics Varde, Spiret and Tind. In addition, they have a wide selection of beanies in different patterns and colours.
Rauma Collection proudly presents a selection that is made of 100% Norwegian quality wool and takes pride in their long history of locally produced garments. Norwegian wool is known for very good elasticity, and has a high gloss, which provides light, airy and comfortable garments for everyday use. Rauma Collection designs high-quality and durable clothes, suitable for both the urban chic and the practical outdoor lover. With authentic patterns and colours, these are timeless classics that will never go out of style.
Norwegian sheep
Norwegians have a long and proud tradition of breeding sheep, to harvest their wool and to handle it as a valuable resource. Norwegian sheep roam freely in mountains, forests, and hills during the grazing seasons. They drink the purest water and eat the most nutritious food nature can offer. Norwegian sheep are truly powered by nature, how they live the good life and feed on healthy natural grass creates strong animals with wool of exceptional durability, resilience, and radiance.
100% Norwegian Wool
Nothing is like Norwegian wool. We humans have never created something as amazing as this natural material. It is unbeatable when it comes to insulation and breathability properties, and is also temperature-regulating, moisture-absorbing, and odour resistant. Wool is a wonderful resource and has been used by Norwegians since the dawn of time. Wool keeps you warm when it's cold in winter and cools you down if it's too hot in summer. It is a practical and versatile material well suited for Nordic conditions, where temperature and weather conditions can change quickly. Whether you are hiking up the mountains or hitting the slopes, wool will transport moisture away from the body and keep you dry and protected, even in high activity. Norwegian wool is also known for being sustainable, durable, and practical, and is the perfect garment to wear throughout the year.
The fact that Rauma uses 100% Norwegian wool in their entire collection, validates how incredibly high quality their products sustain.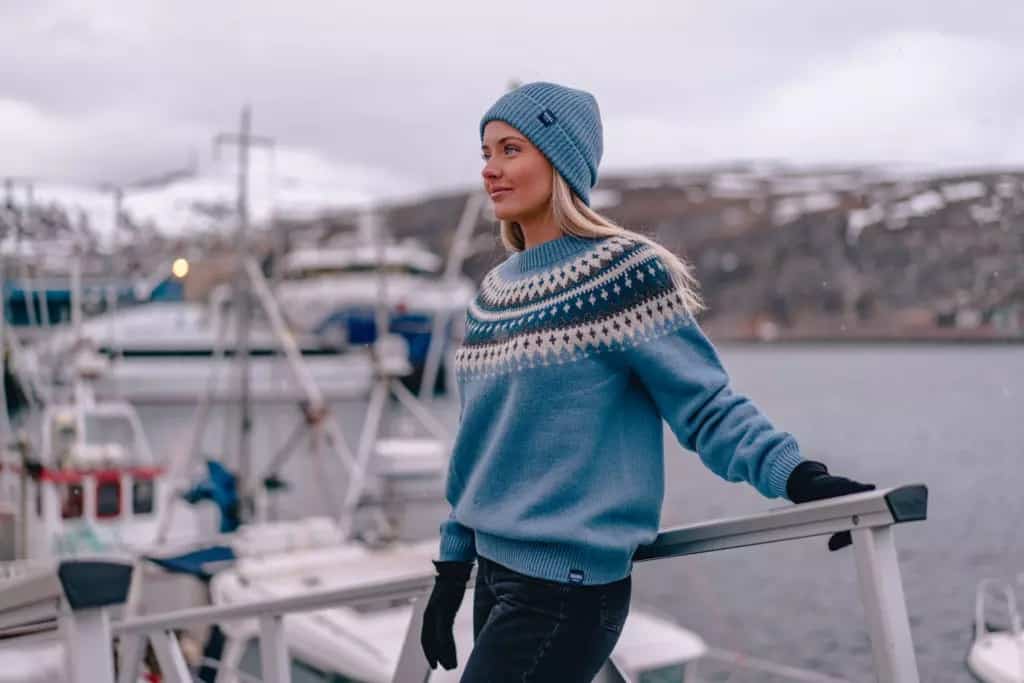 Norwegian Wool – sustainable and magical!
As a natural fabric, wool is the best choice if you want a sustainable material for your textiles, everything from clothing to blankets. Norwegian wool is produced locally, and is a product of good animal welfare, which makes it very sustainable. Rauma is one of few textile companies with their entire production process in Norway, which means they contribute to reducing the use of resources, environmental damage, and climate gas emissions. Wool clothes and knitwear are both sustainable and magical!
Norwegian Sweaters
In a cold country like Norway, warm clothing is essential. The traditional sweater is a fundamental item in any Norwegian wardrobe thanks to the unique properties of Norwegian wool. Anywhere you go, you will find Norwegians wearing woolen sweaters, with traditional designs, or multi-coloured with stylish patterns.
The Norwegian sweater has also made a name for itself internationally, and you can find the designs in many international fashion magazines. In addition to the eye-catching patterns, the sweaters' high level of comfort and pleasant warmth makes modern fashionistas reach for the iconic threads.
If you desire a trendy sweater made of 100% Norwegian wool, Rauma has the perfect mix of traditional and modern designs. They are the only knitwear company with exclusive rights to produce the original Marius sweater. They develop new variations like no other company, which you can see in one of their best-selling products, the traditional Marius sweater.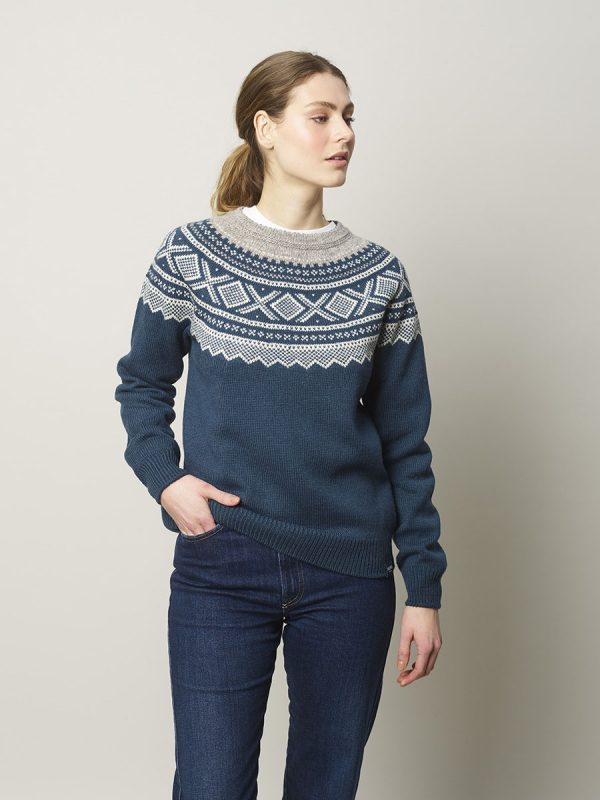 2.300,00 kr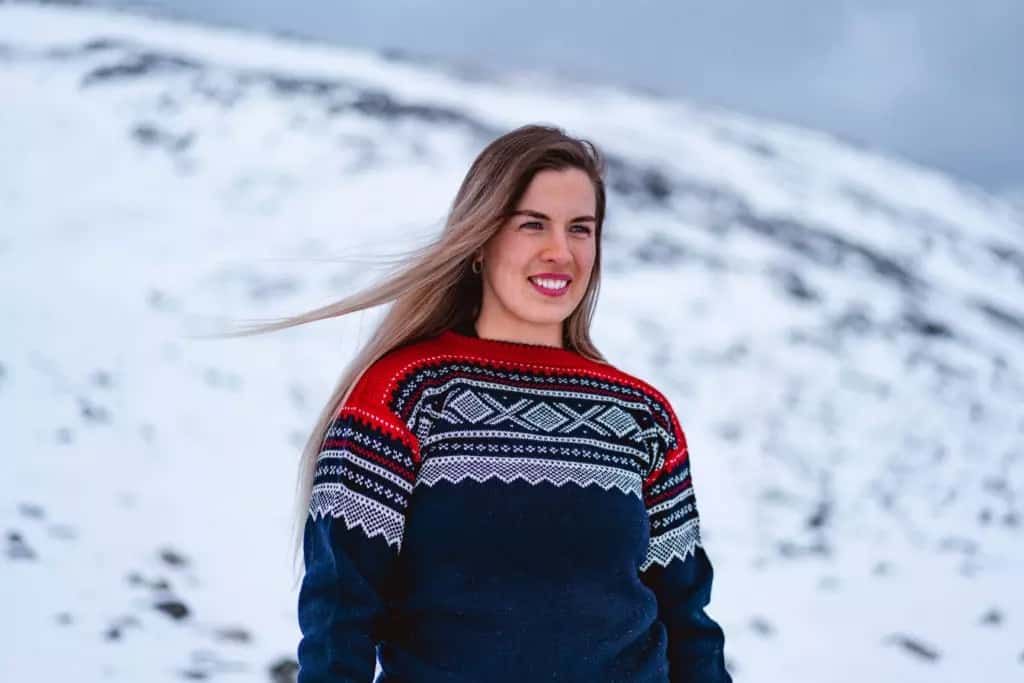 The Marius Sweater
The Marius sweater is a popular addition to the Rauma Collection, and few things are more typically Norwegian. The beloved sweater is inspired by traditional patterns and designed with the colours of the Norwegian flag red, white and navy. Although Norwegian sweaters have been knitted for hundreds of years, the Marius sweater is a relatively modern phenomenon, dated back to the 1950s.
The sweater's name originates from the war hero, Marius Eriksen, who was also a famous skier, a model, and an actor. He wore the Marius sweater in his first film, and it generated knitting hysteria in Norway. Everybody started knitting the iconic sweater, and you could see the popular Marius pattern on everyone, from the hard-working fisherman to the snobby housewife. Henceforth, the Marius sweater was officially regarded as an icon of Norway, that keeps Norwegians warm and protected.
An Icon of Norway
The Marius sweater is a true Norwegian symbol and is one of the world's best-selling and copied knitting patterns. It has a strong cultural value and an iconic status, it is worn by everyone, even the Norwegian King. It is precisely the sweater's national and traditional touch that constantly brings it back into the fashion scene. It has become a heritage piece that is passed down through generations.
The Marius knitting pattern's popularity is truly international, with millions of units of both the pattern and the sweater being sold each year, and its popularity shows no signs of slowing down. Recently there has been a fashion hype around Norwegian wool and traditional Norwegian patterns. It even has the attention of luxurious fashion houses, and you could see inspiration from the Marius pattern walking down the runway of Dolce & Gabbana.
If you want the traditional Marius sweater in the colours of the Norwegian flag, or a more modernized variant, you can find a wide selection of the beautiful sweaters from Rauma in the Mall of Norway online store.
Online Store
You can find a wide selection of Rauma products in our online store. Every item in the online store is presented with a detailed picture. Choose colour and size, add to cart, and order. The prices include custom fees, tax and VAT. Mall of Norway has international express shipping with DHL and can deliver to anywhere in the world.
FAQ:
What products does Rauma sell?
Rauma Collection offers traditional and classic sweaters. In addition, they have a wide range of beanies in different patterns and colours.
Where can I buy Rauma products?
You can find their products at the Mall of Norway online store and have them delivered to your doorstep anywhere in the world.
What material does Rauma use in their clothes?
Their whole knitted collection is made of 100% Norwegian wool