The classic, warm knitted sweater «Islender» is one of the hottest pieces in the fashion scene today. It has been used by timbermen and fishermen for generations, but it is more popular now than ever. A knit sweater that is great for hunting, fishing, camping – but also eligible for parties.
Islender, also called the Iceland sweater, is a Scandinavian term for a thick work shirt or sweater made of wool. The Islender sweater has been present since the middle of the 19th century and was traditionally knitted in high quality wool yarn so the workers could keep warm. Today, the Islender has made a comeback in the fashion industry with the same design, a white base with a simple black pattern.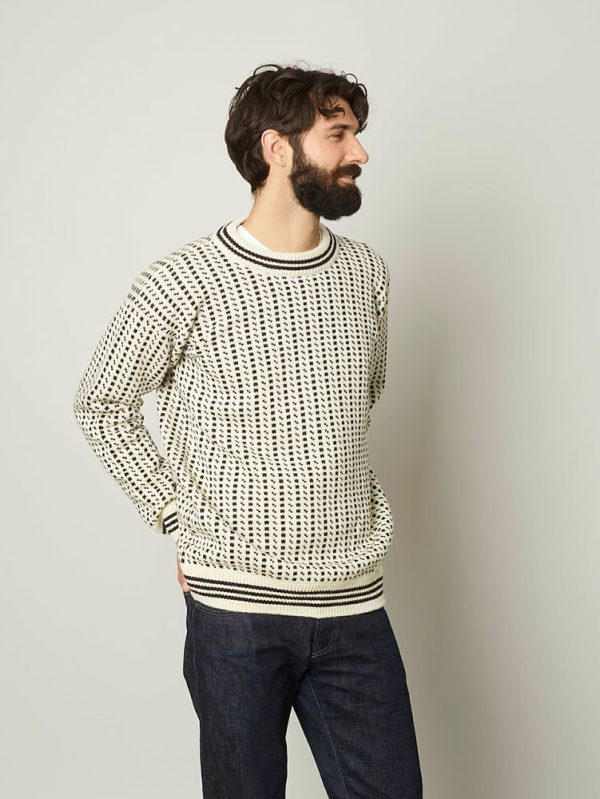 2.800,00 kr
Norwegian Sweater – a central part of the Scandinavian style
Norwegians are very proud of their cultural heritage, and the Norwegian sweaters with traditional knitting patterns will always be a big part of their fashion. It is a practical and versatile garment well suited for the Scandinavian conditions, where temperature and weather can change quickly. For that reason, Norwegian sweaters play an important part in the Scandinavian fashion scene, it is contemporary, sustainable, functional, and cool. Whether for warmth, beauty, tradition, identity, or art, Norwegian sweaters are now everywhere, for everyone, and for every day. The Islender sweater with its simple and characteristic design, and the high level of comfort and pleasant warmth makes modern fashionistas reach for the iconic thread.
The new IT sweater
There is one Norwegian sweater that has been the topic of conversation the last year. Islender! The classic, warm knit sweater Islender is one of the hottest clothing pieces in the fashion scene today and is referred to as the IT sweater by fashion editor Petra Middelthon, in ELLE Norway. It has a strong cultural value and an iconic status for Norwegians, it is worn by everyone, even the most fashionable influencers. Fashion houses like Chanel, Tom Wood, By Timo and Ganni have all made their own interpretation of this wool sweater.
Sustainable and fashionable
To be environmentally conscious has become trendy, which has also affected the clothing industry. With today's environmental focus young consumers are more aware of their choices when buying clothes. Norwegian wool is among the world's most environmentally friendly textile fibers, has an incredibly good durability, and is a 100% natural, renewable, and biodegradable material. An Islender sweater knitted with 100% Norwegian wool shows that you as a consumer are attentive of sustainable fashion and the environment. It is a garment with a simple, stylish design that will last for many years, and is perhaps the most environmentally friendly and fashionable garment to have in your wardrobe.
Modernized versions of the Islender sweater
Arctic Circle, Rauma Collection and Norlender Knitwear are well known Norwegian clothing brands that produce the Islender in the classic pattern, with white as the base color and black/gray squares in lice pattern. Since new knitting techniques and designs have been implemented to make knitwear more fashionable, traditional patterns and color are renewed and modernized to suit a wider range of consumers. The Islender sweater is no exception, and the popular garment has been reinforced in many different color variations inspired by Norwegian nature.