Origins and History
The village of Dale is located on the west coast of Norway, surrounded by mountains, waterfalls and fjords. It is positioned near the city of Bergen. Their story starts in 1872, when Peder Jebsen travelled through the village, and recognized its potential for natural hydropower, large access to wool and its knitting tradition. Ultimately, Peter Jebsen secured the rights for using the local waterfalls and soon after that, the boats loaded with machines started arriving from England to Dale. The premium textile production facility known as "Dale of Norway" was built in 1879 and since then it has remained active and popular.
From the beginning, the focus of the company was set on crafting premium wool products. It quickly grew to be the largest employer in the region – skilled knitters and artisans joined the company. With time, the word spread all around Norway and further and today, 150 years later, Dale of Norway is still growing popular worldwide.
About Dale of Norway
Dale of Norway is a Norwegian clothing brand widely known for its production of high-quality pure wool knitwear. It originates from the village of Dale near the city of Bergen, but today, their products are sold in hundreds of retail stores around Europe and the US. Due to the long winters, the Norwegian company focuses primarily on manufacturing and selling top-quality sweaters and winter equipment (jackets, cardigans, hats, scarves) as well as tops and T-shirts.
Since 1956, Dale of Norway has been outfitting the national Norwegian ski team for the Winter Olympics and World Championships. The company was approved by the International Olympic Committee (IOC) to design official sweaters for the Winter Olympics – acquiring the rights to use the olympic rings. Recently, Dale of Norway re-launched some of their original Olympic designs.
Materials of Dale of Norway
The materials used by Dale of Norway are adapted to each product and are renowned around Europe and further. Thanks to the exceptional qualities wool itself possesses which synthetical materials cannot match – wool is back in fashion. Premium-quality wool ensures comfort while also having numerous other benefits:
Superior insulation
Antibacterial and odor resistant
Regulates temperature
Elastic and able to maintain its shape
100% natural, sustainable fiber
Norwegian Wool
Norwegian wool is worldwide known for its long-lasting quality and appealing and smooth looks. It is great for mid-layer and outer-layer knitwear. Norwegian wool is one of the world's most eco-friendly and animal-friendly materials due to the natural, mountain lifestyle of the sheep. "Dalasau" or the "valley-sheep" are known for roaming in the vast Norwegian hills and mountains and grazing in natural pastures and meadows.
Merino wool
Merino wool is one of the highest-quality types of wool with a certified animal-friendly origin. This natural fibre is soft and lightweight and can be worn in direct contact with skin without discomfort, which makes it great for all seasons of the year! During the process of gathering wool, sheep do not go through "mulesing" – it is 100% animal-friendly! Dale of Norway offers a wide spectrum of Merino sweaters. These sweaters are an investment in elegance and comfort.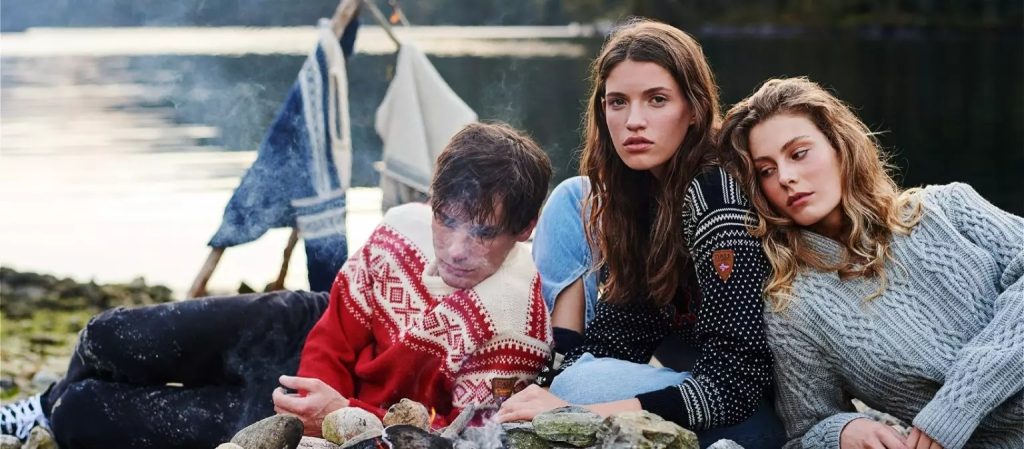 Norwegian design knitted in Norway
Being one of the very few textile companies with production in Norway, Dale of Norway pays attention to every detail during the process of production and making of knitwear as well as other pieces of clothing. Due to the cold winters, Norway has a long tradition in wool and knitwear. Although it has been 142 years since the first appearance of Dale of Norway knitted sweaters, until this day, the old factory in Dale is the place where the design and knitting process happens. The designs on the world's finest knitwear are inspired by Norweigan lifestyle, flag, Vikings, etc.
Traditional knitwear
Knitwear has always been popular in Norway, as well as in other Scandinavian countries. However, the unique designs and a special knitting technique made knitwear a part of a Norweigan tradition. The interest for traditional Norweigan knitwear has appeared in the middle of 20th century. Dale of Norway has been knitting woolen sweaters for Norweigan ski team since 1956. The skiers wore them when participating in the Winter Olympic Games and World Championships. Since the fabulous sweaters got noticed by the whole world, the International Olympic Committee chose Dale of Norway to be the designer of the official Winter Olympic Games sweaters. Traditional Norweigan sweaters have gained popularity across the globe due to their specific design, the finest knitwear and high quality wool.
2.999,00 kr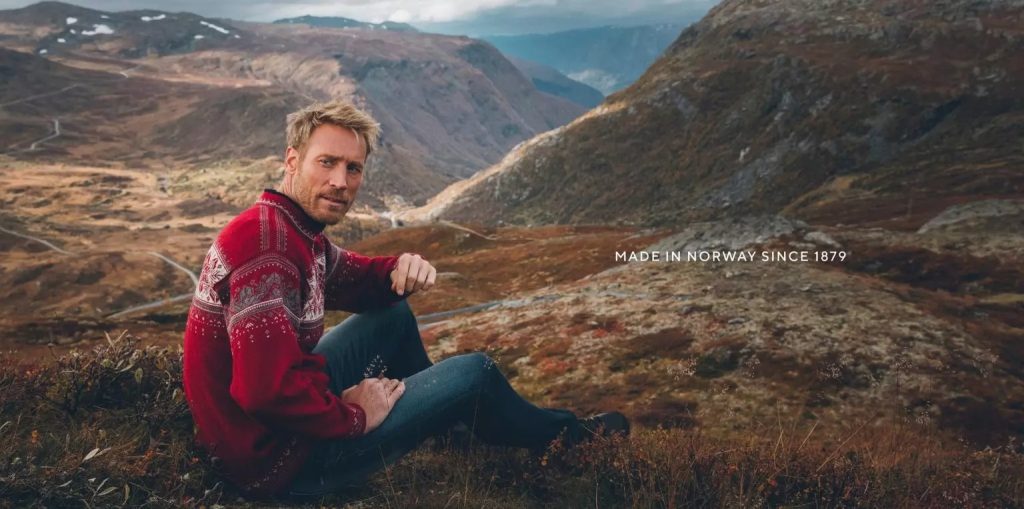 FAQ:
Where is Dale of Norway situated?
The first textile production facility was built in the village of Dale, in Vaksdal Municipality, 50km east of the city of Bergen, Norway. Today, Dale of Norway sells its products in more than 190 retailer stores around Europe and the US.
What does Dale of Norway sell?
Dale of Norway sells garments made of premium-quality Norwegian wool and Merino wool while keeping the environment and sheep safe in the process. Their products are available for both men and women and they also have a children's collection of knitwear. The products include:
Sweaters
Jackets
Cardigans
Hats, scarves and headbands and others
Dale of Norway has also supplied and outfitted the national Norwegian ski team since 1956 and was approved by the International Olympic Committee (IOC) to design official sweaters for the Winter Olympics.
Where can I buy Dale of Norway products?
You can find a large selection of Dale of Norway products right here on mallofnorway.com.