What is a bunad?
Every year on the 17th of May, Norway's Constitution Day, thousands of women, men, and children who celebrate the day will proudly wear their bunad, the national costume of Norway. There are several hundred different types of bunad, depending on where in Norway you originate from.
Each of the most common types of bunad is usually named after the geographic location they originate from. When purchasing a bunad, the person wearing it will usually choose the kind of bunad related to where they were born, or the region of Norway that their kin originates from.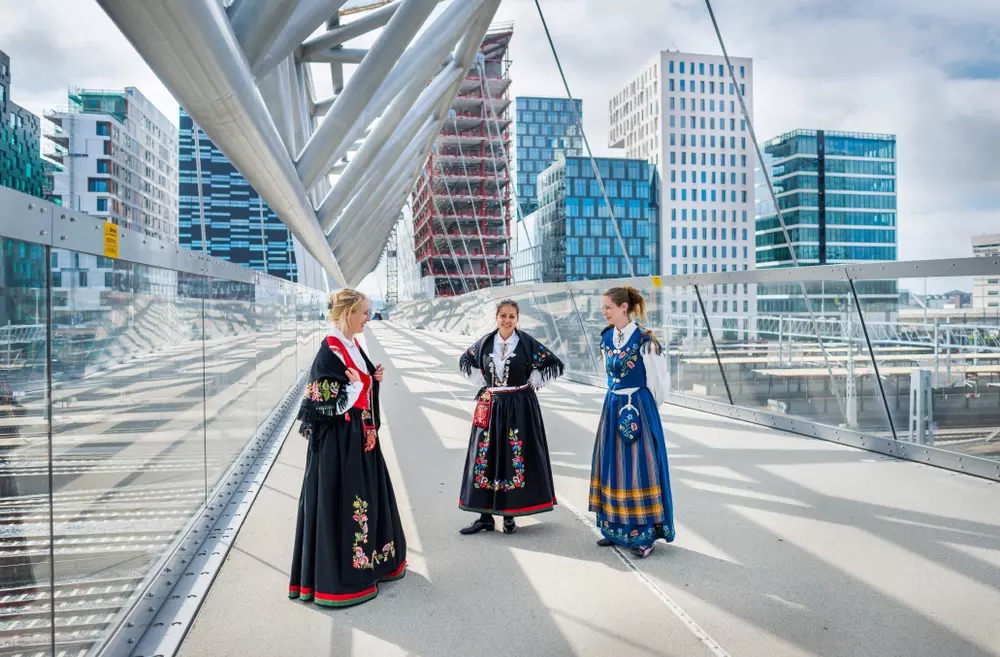 Where does the bunad originate from?
The original bunads are based on folk costumes from the 18th and 19th centuries. They are typically made by hand, most of them with elaborate embroideries, and there are many different rules for the use of fabrics, colors, patterns, and jewelry.
These rules depend on your age and status, like different colors of the vest for men (red for unmarried and green for married) unusual headdresses for women (bonnet for girls and a scarf for a married woman) and so on.
The different variations of dresses within a single geographic location can range from a simpler daily wear to more elaborate variations also used as wedding dresses, including a sizeable bejeweled crown.
Usually, the bunad consists of a shirt, a shift, the main dress, and an apron, including accessories like a bag, stockings, shoes, scarves, shawls, and hand-made silver or gold jewelry known as sølje. The jewelry also has different shapes and variations for men, women, and children.
Typically, you start out with a small sølje and then expand to larger pieces as you get older. Silver buttons and cufflinks are conventional. For the men, there are sometimes hats or knives included, as well as suspenders and belts. There are also different kinds of outerwear, like capes, jackets, and shawls.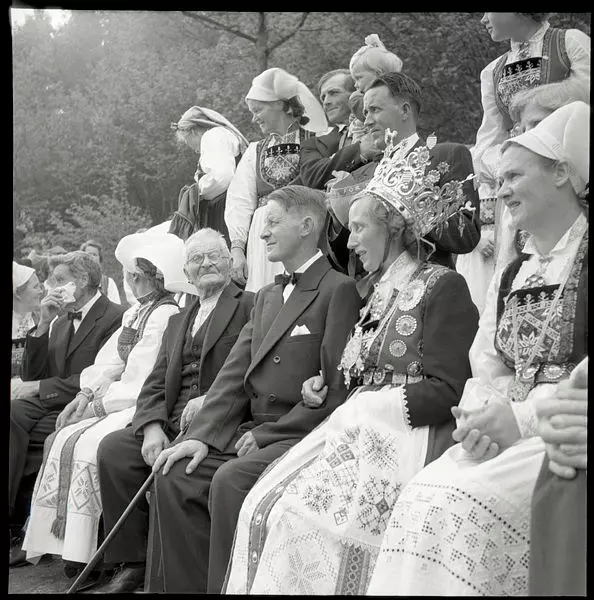 Wedding in Hardanger 1954 (Riksarkivet)
How much does a bunad cost?
A bunad is a treasured piece of clothing, and it can cost from 2000 to 10.000 dollars. There are also more affordable alternatives offered in recent years, called "festdrakt." These are mass-made and intended for everyone, not connected to any distinct geographic location.
The children often wear these, since they outgrow their small sizes so fast that there is no point in spending too much money and time on a full traditional bunad. Some families do have children' bunads that are passed down through generations as different children in the family grow into the right size to wear them.
Who is wearing the bunad and when?
It is a traditional custom in Norway to give young adults their bunad at confirmation, when they are 15 years old. Every bunad is made to last their whole life, with extra fabric in the seams, to adjust the size as they grow older. The bunad is commonly used at family events as christenings, confirmations, weddings and other festivities, and is approved as formal wear at gala events as well.
The Royal Family of Norway is no exception, and they have a wide selection of bunads. They wear them on occasions like the 17th of May, and on other special events. For the commoners, it is customary for the young ones to get a bunad for their confirmation. HRH Queen Sonja took the time to do some embroidery herself for the bunad of Princess Ingrid Alexandra at her confirmation.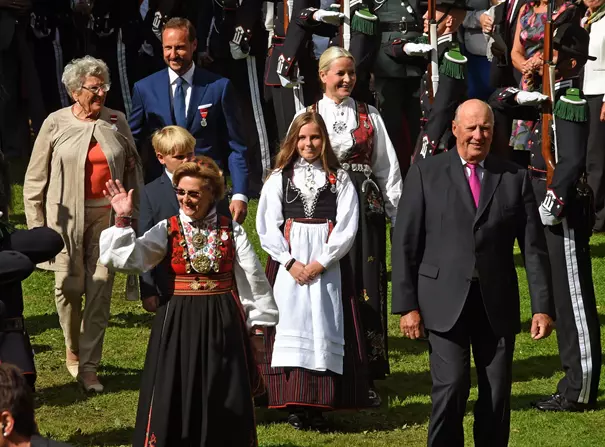 The Bunad Police
There are groups of people called "The Bunad Police" that are working hard to keep everything original, and according to history. They do not think you should mix items from different bunads, wear sunglasses or other modern items with your bunad, to stay true to the originals.
Usually, the women go for a very natural look, like braided hair and natural makeup while wearing their national costume. Some make their own modern style by combining different items of clothing, mixing and matching, those are called "Fantasy Bunad."
There are many new patterns of bunad made also. Still, very few will get approved by the "Bunad Police" as they are strict with what is within the limits of tradition.
Bunad accessories
In recent years, there have also been made other accessories to the bunad, like ties for men with patterns that match the embroidery for the woman's bunad. You can also find umbrellas and headpieces with adornments and sølje-inspired hair clips.
These are not traditional, but loved by many owners of bunad as they are practical. The wearing of the more traditional headdress is often exchanged for these new and more modern items.
Where to buy bunad related products online?
Now that you know more about the bunad, perhaps you would like to have your own? Unfortunately, we can't sew one for you, but we have a nice selection of bunad themed products in our webshop. Here is a selection of items you might enjoy.
Sølje-inspired jewellery by Vossasylv Jakob Rongve AS
Vossasylv is a family business located on Voss. For over 40 years, they have produced bunad silver for bunads from the south to the north and from east to west.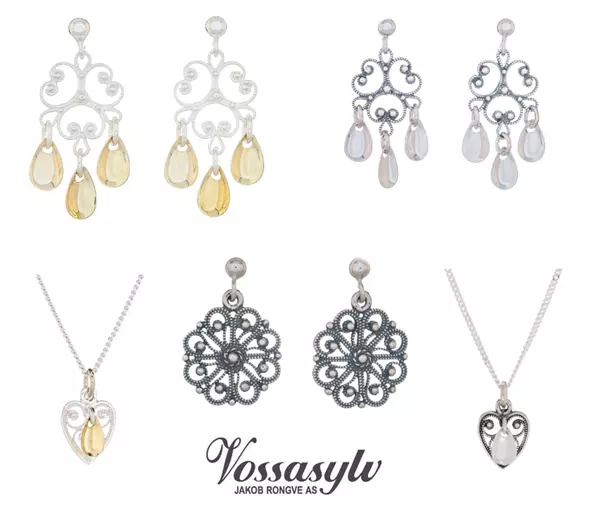 Lucie Kaas Bordfolk Egg Cups
Have a look at these amazing and super cute collection of bunad-sporting egg cups by Lucie Kaas. They make wonderful gifts and a must for 17 May breakfast parties. Pick your favorite, or collect them all!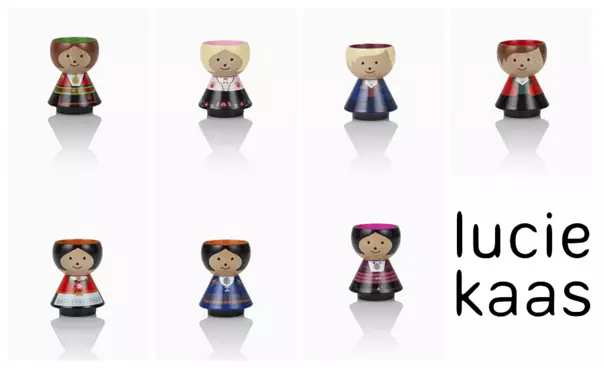 Bunad umbrella for rain or sunshine
This limited edition bunad umbrella designed by Mall of Norway is decorated with Norwegian bunad patterns. Show off your Norwegian heritage or fandom, while staying cool and dry in rain or sunshine.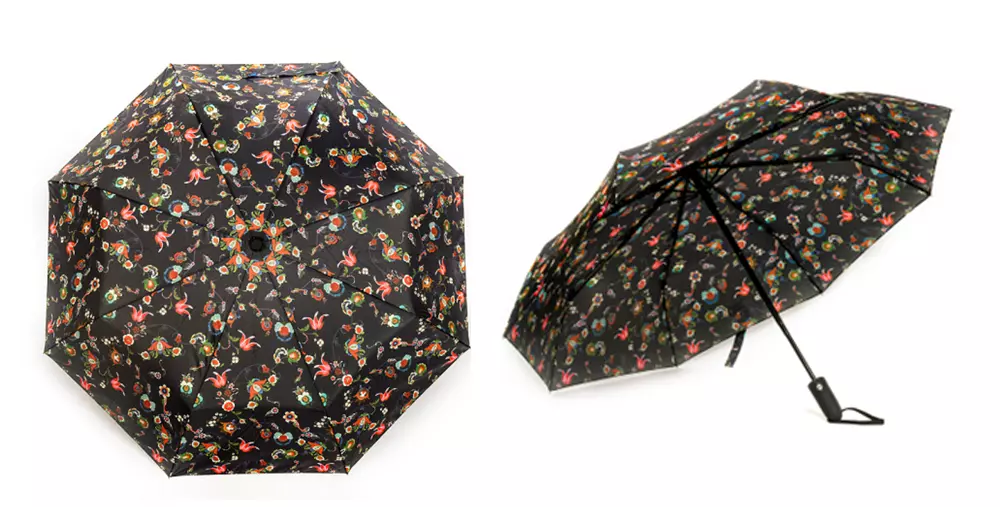 Trolls are an ancient part of Norwegian folklore, and have an important role in our stories and fairytales. If you're looking for that extra Norwegian gift for someone, a troll in a bunad fits the bill!